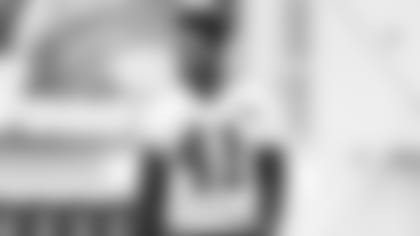 Bless Austin, the Jets' 22-year-old sixth-round cornerback out of Rutgers, has two qualities in abundance: maturity and confidence.
Austin explained during last week's rookie orientation that his maturity has arisen from playing for the Scarlet Knights program, which had been down the four seasons he was there.
"It definitely made me a stronger person on and off the field," he said. "I've been all through the pressure you can go through with losing on a team that hasn't had that much success, seeing two different head coaches, four different DB coaches. I pretty much learned it was a business early on. That's why now I walk around here, not that I've got it figured out, but I've been through a lot. I've pretty much matured faster than my age would tell you."
As for the confidence, that has to be great since, despite having his last two seasons cut short due to a pair of ACL tears, he still sees great things ahead.
"It's tough but nothing I can't handle," Austin said of his ongoing knee rehab. "Working hard has always been easy for me, to be honest with you.
"I'm not trying to get to be the player I was — I'm trying to be better than that," he added. "My expectations for myself are that I want to be one of the best to ever play the game at my position."
Grand goals for a player who was the 196th overall selection after grabbing just four interceptions in 25 career games and playing only five games in 2017-18 as a result of those knee injuries. Some wondered what the Jets saw with the pick. But they clearly did their homework on the Queens, NY, native.
In Austin's last full season, in 2016, he put up one intriguing number. His 15 total pass defenses over 11 games gave him 1.4 PDs/game, which ranked second in the Big Ten and tied for 12th nationally. As nj.com noted, he was the first Knight with 12-plus PBUs in a season since future pro Logan Ryan in 2012.
Austin also has a 50-yard INT-return touchdown as a freshman on his playing résumé. He didn't run at the NFL Combine but he measured well. He has nice length at 6'1" and 198 pounds, and his 32.5" arm length was tied for sixth-longest among the corners in Indianapolis.
He answered more questions when, after running a 4.65-second 40 at his Rutgers pro day in March, he improved to 4.56 at a private pro day almost a month later.
Now he's on the Jets campus, slowly working back to full speed and showing a little more of his intangibles every day, his maturity and confidence and one more trait he has plenty of: desire.
"It never really mattered to me what round I went in," he said of early pre-injury projections. "I don't play this game for the money or nothing like that. I play this game for the love of it and just how good I want to be at it. So as far as the first-round talk and all that, I just needed to get my foot in the door, honestly. And now I'm just trying to stay here and be the best to ever do it."