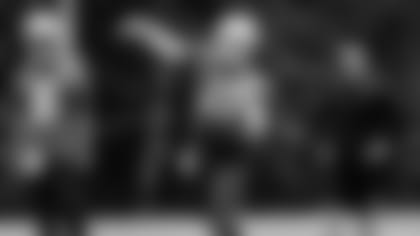 With training camp set to kick off Thursday in Florham Park, here are some position battles to keep an eye on.
Josh McCown will be the starter when players report to camp on Thursday. However, head coach Todd Bowles said all three of the team's signal callers will get their chance to win the starting job before Week 1 in Detroit.
McCown underwent a renaissance in his first year with the Jets. The 38-year-old had career highs in numerous categories, including completion percentage (67.3%), passing yards (2,926), and touchdowns (18). McCown's presence in the locker room was also well documented, providing leadership and helping establish team camaraderie.
After an impressive spring, former first-round pick Teddy Bridgewater will open camp No. 2 on the depth chart. Bridgewater missed the majority of two seasons after suffering a knee injury during training camp in 2016. However, prior to the injury, Bridgewater was a 65% passer and led the Vikings to an 11-5 record and a playoff appearance. If he returns to form, Bridgewater could end up being the steal of 2018 free agency.
In one of the most highly anticipated drafts in franchise history, the Green and White selected USC QB Sam Darnold with the third overall selection. Widely considered the top QB prospect in the draft, Darnold had a strong spring and took some first-team reps along the way. It is expected that Darnold will be the future quarterback of the franchise, the question is: when will his tenure begin?
The Jets top receiving tight end from last season, Austin Seferian-Jenkins, departed for Jacksonville during free agency and that left the 2018 starting role wide open. Entering his third season in the Green and White, third-year veteran Eric Tomlinson has the most game experience of any TE on the roster. Known mainly for his blocking prowess, Tomlinson was serviceable as a pass catcher in 2017, reeling in eight receptions for 121 yards and a TD.
The team drafted a tight end in each of the last two draft classes. Picked in the fifth round in 2017, Jordan Leggett arrived at 1 Jets Drive after making his mark for the Clemson Tigers with a highlight reel catch late in the 2017 National Championship game. The 6'5'', 260-pounder showed promise early in training camp last year before losing his rookie season to injury. Now fully healthy, the coaching staff will get another shot to see what Leggett can offer.
Also undergoing offseason knee surgery, Jets' 2018 fourth-round pick Chris Herndon was a full participant in OTAs and minicamp. Herndon played eleven games during his senior year at the University of Miami (FL) and collected 40 receptions and four touchdowns. Veterans Neal Sterling, Clive Walford, and Bucky Hodges round out the rest of the TE room.
The defense struggled at times to create pressure off the edge last season. Ranking 28th in sacks, the Green and White were limited to 28 QB takedowns.
Jordan Jenkins saw the most starting time at the position last season. In his second year, Jenkins started 15 games, registering three sacks with two fumble recoveries and a forced fumble. Entering 2018, he believes the group has to do a better job of finishing.
"We really need to take advantage when we beat guys," said Jenkins. "Because we beat a lot of guys last year and there were times we capitalized on the play and there were a lot more times where we didn't take advantage and capitalize. When you beat the offensive tackle, you have to get to the quarterback."
Josh Martin was a steady presence in the starting lineup as well in 2017. The fifth-year veteran played in 14 games (starting nine) and accumulated 20 tackles and 1.5 sacks. Martin ranked second on the team in quarterback hits with 20, trailing only Leonard Williams.
The Jets added to the OLB room with the signing of Brandon Copeland during free agency, a 6'3'', 260-pounder who played two seasons with the Detroit Lions before joining the Green and White. The team also has two young pass rushers returning from injury in 2018. Rookie Dylan Donahue saw the field in four games before injuring his elbow in the Jets' win over the Jaguars in Week 4 while Lorenzo Mauldin missed all of 2017 with a back injury. In his first two seasons with the Jets, Mauldin racked up 6.5 sacks and 14 tackles.
Lawrence Thomas began training camp last season hoping to find his spot along a crowded defensive line. However, having played on offense and defense during his time at Michigan State, head coach Todd Bowles suggested Thomas flip back to the other side of the ball. Following Week 4, Thomas changed his number to 44 and assumed his role as full-time fullback. Entering training camp, he relishes the opportunity to have a full season dedicated to the position.
"Last year, I had to learn as I went. Now, I had the whole offseason to study up and learn the plays. Now, I am all in to it. It's going to be a good year," said Thomas.
The team added Oklahoma standout Dimitri Flowers to the room, signing him as an undrafted free agent. An accomplished pass catcher, Flowers ranks tied for first in OU history among running backs in career receiving touchdowns (13), fourth in career receiving yards (886) and seventh in career receptions (51).