Calvin Pryor says that among the things he still needs to show the Jets, one stands out.
"That they brought me here for a reason," our top draft choice said after today's first day of rookie minicamp at the Atlantic Health Jets Training Center. "With the 18th pick, I have to come in here and get respect from the older guys and the vets, and I feel like I have to just earn their respect and earn everything. Right now, that's what I'm focused on, just learning the system so I'll be ready to go."
Rex Ryan said the new No. 35 on the roster already demonstrated a little of that in Session No. 1.
"He was good, very impressive," the head coach said. "I've been really impressed with him mentally. That's all we've really had, but mentally, sharp. He's into it."
Ryan did have one coaching pointer out of the practice.
"I told him, 'You could've picked one. We'd be OK if we picked that ball. You don't have to go hit somebody.' "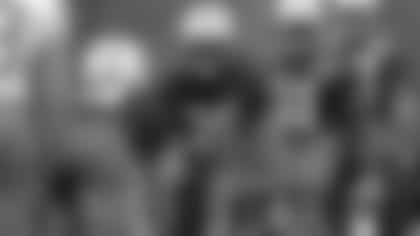 Pryor, of course, has impressed many — Louisville fans for three seasons, Jets and NFL fans before the draft, and his new teammates who've studied up on their new safety — especially with his hitting ability. But since there is no live contact at any time in the NFL offseason, he said today's workout was more about getting his legs under him for his first camp as a pro.
"It was good," he said of the practice. "I got to run around a little bit, made some calls. I was just running around with my teammates, having fun for the most part. It was good to get back into football mode."
Besides the deep middle of the defense, Pryor also got reps as personal protector on the punt team. But the most important part for Rex and his staff is Pryor's mental game.
"He's really catching it to where he doesn't just learn his position but he's learning how the defense works," Rex said. "And I think that's been impressive."