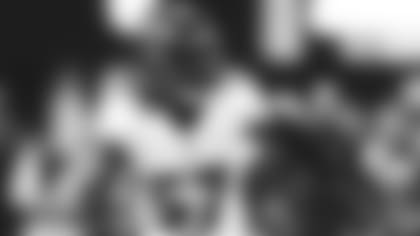 The Baltimore Ravens earier this month had to make a difficult business decision and part ways with unrestricted free agent linebacker C.J. Mosley. As coach John Harbaugh said, "C.J. is as reliable a player as any defender we've had, plus his leadership by example helped in other ways."
The Ravens' loss has been the Jets' gain. Both general manager Mike Maccagnan and head coach Adam Gase spoke at the NFL meetings in Phoenix about the addition of Mosley, not just to the Green & White defensive equation but to their locker room dynamic.
"I think C.J.'s experience, being a four-time Pro Bowler, a guy that has great leadership skills, he's only going to rub off on our crew of young guys," Gase said. "And really, that's what we need. We need that locker room to be strong." And with reporters Tuesday he said, "When he hit the market, it was a full-court press for us. We just felt like he was a culture changer."
"He was highly sought after," Maccagnan said. "A player with his ability, and then you factor in the intangible stuff, I think he's a player we're very excited about adding to our team and moving forward with."
Mosley's impact on his organization off the field is inextricably linked to his and his team's on-field performance. Personally, he missed only three games in five seasons, averaged 120 tackles a season and had 35.5 tackles for loss on runs and receptions. In 2017 alone he had 11 tackles for loss — if he were to duplicate that in 2019, he'd be the first Jets LB with double-digit TFLs in the last 15 years. His 15 takeaways (9 INTs, 6 fumble recoveries) from 2014-18 as we've mentioned are tied for second among all NFL LBs.
And the Ravens defense, a top-10 unit for most of Mosley's time in the middle, in 2018 rose to No. 1 in the league in yardage allowed and No. 2 in points allowed.
One question for Mosley was answered with the re-signing of D-linemen Henry Anderson and Steve McLendon to join Leonard Williams in front of Mosley and Avery Williamson.
"That was something I know C.J. was looking at us, saying who are those guys that are going to be up front to make sure he's protected? Can we stop the run? Are we going to be able to generate an inside pass rush?" Gase said. "We were able to get those guys back and that was big."
Another question remains unresolved in what are the Jets' plans for former first-round draft pick Darron Lee, their ILB starter the past three seasons.
"I think that'll work itself out over time," Maccagnan said. "Right now we feel very good about our inside linebacker position with Darron, Avery and CJ, and we also signed Neville Hewitt. ... It just gives us a lot of pieces there and we'll figure it out as we go forward. We feel very good about the roster, the way it's shaping up right now. We still have some work to do, but we have some positions we feel very good about."