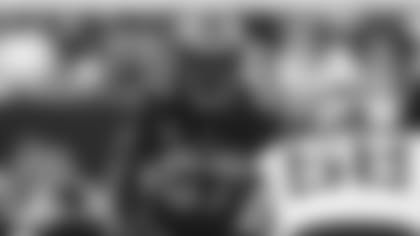 There are no secrets to beating Tom Brady. Even C.J. Mosley, who's been around the block a few more times than many of his younger teammates, said so following the Jets' Thursday practice as they prepare to face Brady and the Buccaneers at home on Sunday.
"We can't go out there and try do any more or any less than we've been doing," the Jets linebacker said. "When you try to do more than what's asked for, that's when you really start to mess up."
Apply the pass rush heat?
"Yes, I think so," he said of this game being a group opportunity for the Jets' front four. "But all that goes hand in hand with us doing our job on the back end, linebackers being in the right coverage, not biting on the Gronk fakes. Brady's good at getting linebackers to bite up and then hitting routes by the tight ends right behind the linebacker."
"I don't think so. I've seen the history," Mosley said with a chuckle. "Once you talk a little trash to him, he gets more fired up."
Mosley wasn't going to try to smoke the Jets reporters this day or his teammates this week. He is the defense's captain and leader, pregame pep-talker and in-game top tackler. But he's fared no better against the Brady Patriots on a smaller scale (0-2 when playing as a Raven, 0-2 as a Jet) than the Green & White, who from 2001-19 were 7-30 when Brady started against them (including a 2006 playoff loss and the rocking 2010 postseason win at Gillette).
But a defense with Mosley in the middle of it at least has a chance. And the Jets defense, which could be getting the returns of DL John Franklin-Myers, safeties Ashtyn Davis and Elijah Riley and CB Michael Carter II, at least could enter the game feeling they've evened things up some personnel-wise with the Bucs offense that could be without leading WRs Michael Evans (hamstring, COVID), Chris Godwin (ACL tear) and Antonio Brown (DNP Thursday, ankle) and bellcow back Leonard Fournette (hamstring).
On the other hand, Brady has the aforementioned Gronk, TE Rob Gronkowski, and other strong players to turn to, and he's been known to be creatively victorious in the past. So Mosley's advice to his teammates has been less technical and more aspirational.
"I would say the challenge we have this week, and more so on the back end, is the same challenge we have every week," he said. "We want to go out there and be a dominant defense, be a defense that communicates, that gets turnovers, that stops the deep ball. This week we happen to be playing one of the greatest quarterbacks in football history, and that just adds to the magnitude of this game.
"So I'm just making sure we're doing our job, and all the talking we do is in between whistles when we make a play, trying to get turnovers against them, and get our offense back on the field. ... It's going to be a fun game, a fun experience, especially for guys that haven't played against Tom Brady and against a Super Bowl team. We can put ourselves in a good situation just by going out there playing good team football."
See the Top Photos as the Jets Prepare for Sunday's Game Against Tampa Bay