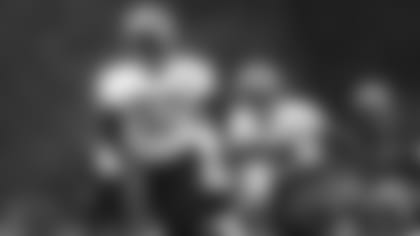 C.J. Mosley and Avery Williamson have known each other for a while, since Williamson was excelling at Kentucky and Mosley at Alabama. But that relationship didn't start out with a lot of words being exchanged.
"Yeah, we came out the same year," Williamson said after today's second practice of the Jets' mandatory minicamp. "I tried to talk to him at the combine and he just said, 'What's up?' That's it. He was so quiet, he didn't say too much. I might've talked to him after a game or something, but yeah, we knew each other, we never really talked. But he's a nice guy, though."
"He's a southern guy, I'm a southern guy, SEC, SEC," Mosley compared and contrasted. "So far we're just learning our play style. My main thing with the linebackers, Mike and Will, make sure we're talking and we're on the same page. As time gets better, we'll figure out more and more what we're best at and when it comes to matchups and things like that, we'll get that going."
It seems the two seventh-year linebackers are developing a nice rapport. Like any other unit or sub-unit in the game of football, it will take a while to see just what the Jets have in this twosome, but with Mosley bringing his Pro Bowl-caliber game and leadership from Baltimore this offseason to mesh with Williamson's sideline-to-sideline playmaking, there's no reason to believe they won't stack up with some of the best LB tag teams in recent Green & White history alongside Harris and Davis, Harris and Scott, on back to Lewis and Jones in the Nineties and early 2000s.
Especially with the two current 'backers immersing themselves in Gregg Williams' brand of aggressive defense.
"While I was playing against Cleveland, not too much," Mosley said about whether he noticed Williams' Browns defenses while with the Ravens the previous two seasons. "But when I see stuff on film like what he did with the Browns, it's like, oh, now I see why he did this, or I see why we've got nickel play on this or that. The way he's mixing things up is great for our defense and I think the more we get to know each other, we'll be able to do more things."
With Mosley taking over the mic in the Mike LB's helmet as the unit's playcaller, Williamson has seen his role shift to the more coverage-oriented Will.
"I feel like I've gotten a lot more comfortable with it. I feel like today was a really good day," Williamson said after chasing RB Le'Veon Bell around the Atlantic Health Training Center pitch for a while. "The biggest thing is coverage. I've just got to be more in tune with the corners and what they're doing. I'm definitely picking up on a lot of stuff and feel like I'm starting to become a more intelligent football player."
And the communication between the two is now a veritable firehose.
"C.J. just says the play, he doesn't say too much else. But we definitely are starting to get used to each other," Williamson said with his playful smile. "We're just kind of throwing things around out there, helping each other out as much as possible. It's definitely going good and we're just continuing to get to know each other. ... Good dude."
We suspect C.J. feels the same way about Avery. And that's good for the emerging Jets D.