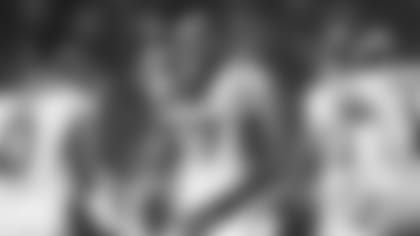 Everyone at One Jets Drive has felt the impact of Aaron Rodgers injury. But some players and units will be able to shift gears differently as the Green & White move forward without No. 8 in the lineup this season.
C.J. Mosley gave a good explanation about how the Jets' defense handled the injury at home in primetime against Buffalo and how they might be able to channel their emotions heading into Sunday afternoon when the Jets' big D plays the Cowboys in Big D.
"I think we showed a perfect example of it this past Monday," Mosley said in the Jets locker room after Wednesday's practice about how to keep their big green balloon inflated. "I think most of the air came out of the crowd than out of the team. We just have to keep playing. Unfortunately, that's part of football. If you play football long enough, you're going to get injured. It sucks, that he went down and is going to be out for the season.
"But as a defense, we didn't blink our eyes. We tried to put ourselves in position to put this team right and to win no matter who the quarterback is. We pride ourselves on making plays and scoring points for our team."
The Jets D didn't score any points directly, but they made a whole bunch of plays against a very difficult Bills offense, and the longer the game went on, the better the D got. Here's a breakdown of the Bills offense by halves in the Jets' 22-16 overtime win:
Table inside Article

| BUF Offense | Yds/Play | 1st Dns | 3rd-Dn Conv | Turnovers | 3-and-Outs | Points |
| --- | --- | --- | --- | --- | --- | --- |
| 1st Half | 5.1 | 11 | 4/8 | 1 | 0 | 13 |
| 2nd Half/OT | 4.1 | 8 | 1/5 | 3 | 2 | 3 |
| Game | 4.6 | 19 | 5/13 | 4 | 2 | 16 |
Mosley was again the meat in middle of the sandwich that joined the D-line and the secondary for some feeding time against the skilled and dangerous but mistake-prone Allen and the Bills. In the second half, Buffalo's yards/play dropped a whole yard, the turnovers increased threefold, and the points spigot was turned off until Tyler Bass banked his 50-yard field goal high off the left upright to send the game to overtime. Then the defense posted its second 3-and-out and Xavier Gipson magically took his punt return to the house for the walkoff win.
On the matter of who's starting at QB for the Jets, the defensive captain said personally the stories of both Rodgers and Zach Wilson have impacted him.
"As a teammate, you feel really bad for Aaron," he said. "Just watching him growing up, being around him a little bit of time we've been together, I know what type of man he is, what type of warrior he is. We'll all be excited for his comeback story."
Meanwhile, Wilson, he said, has had "a really good offseason, a really good camp. I know a lot of that got overlooked because Aaron was here. But Aaron's a student of the game, and Zach's been in the room and doing great things and improving every single day — especially when he's been going against us. It's not like we're slacking off on him. He's made some really good throws against us, and you saw Monday he made some really good throws. ... We have no issue with Zach being back there."
But Mosley feels it's all going to come back on the defense's shoulder pads, just the way they want it.
"We told ourselves when Aaron was the quarterback that defense wins championships, that we're going to be the reason this team wins a championship," he said. "If anything, [Rodgers' injury] just tells us we've got to be on our P's and Q's even more.
"We really haven't changed our mindset on the defensive side. We want to create turnovers, get after the quarterback, stop the run, all those good words. So we're just going to come in every single week and do what we have to do."