Brett Favre will be inducted into the Pro Football Hall of Fame in Canton, Ohio, tonight. And Jets fans in attendance at Tom Benson Hall of Fame Stadium or watching on TV can reflect on having gotten to see one small chapter of the Ol' Gunslinger's storied career unfold from close proximity.
Favre's one-year stay with the Green & White in 2008, coming after his 16 legendary seasons with Green Bay, started with incredible fanfare, unfolded like a football storybook, yet concluded in playoffs-less disappointment before No. 4 departed and joined Minnesota for his final two seasons.
Rumors of conversations between the Jets and Packers had swirled for a few days, and the tradewinds took on hurricane force as the Jets landed in Cleveland on Wednesday night, Aug. 6, to word that the deal was going down.
The trade was announced shortly after midnight, and Favre was introduced by owner Woody Johnson and GM Mike Tannenbaum in a hot, packed pressroom inside Cleveland Browns Stadium the next evening before kickoff.
In the coming days, newyorkjets.com exemplified the intense interest in the story as the website received hundreds of thousands of visitors and thousands of comments. Ten thousand fans were reported to have thronged the Hofstra University practice fields for Favre's first training camp practice the next Sunday.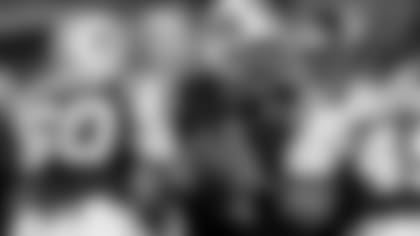 The coming weeks and months supported the mania as the Brett Jets picked up speed. The team opened a modest 3-3. The highlight: a 56-35 rout of Arizona as Favre fired six touchdown passes, tying Joe Namath's franchise record set in 1972 and setting the mark for most Jets TD passes in a home game.
Then came five dizzying wins in a row, including a 47-3 home romp over St. Louis and road wins at Buffalo, New England and Tennessee. With the 34-13 dismantling of the previously undefeated Titans, the Jets were 8-3 and were on their way to big things.
Then suddenly they weren't. Favre had developed a shoulder ailment that turned out to be a torn biceps tendon, and it took its toll. Over the last five games he threw two touchdown passes and nine interceptions and the Jets won just one game, a late escape against the Bills. The Jets' postseason hopes, thin before the finale at home vs. Miami, ended in the 24-17 loss to the Dolphins that dropped them to 9-7.
Favre's Jets chapter is unlikely to come up during the celebration of his NFL saga on Saturday. Yet followers of the Green & White know better than all NFL fans who don't wear cheeseheads or Viking horns what it was like, for just a little while, to be in the front row to watch Brett Favre's passing parade.