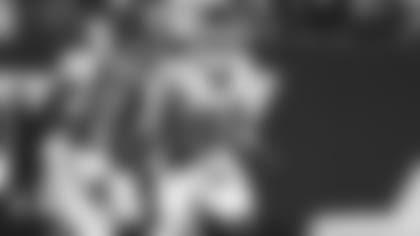 Look up "highs and lows" in your favorite phrasebook and there could be a picture of Breece Hall at Denver in 2022.
Hall, the Jets' second-round pick out of Iowa State, was surfing the crest of an exceptional start to his rookie season, and that ride was continuing in Game 7 in Denver when he took a first-quarter toss from Zach Wilson, rocked around left end and sped 62 yards for the game's first score.
In the second quarter, he tried the left side again and this time felt pain. He tore his ACL and was done for the season.
If you thought Hall might be freaked out or super-hyped about returning Sunday to the same Empower Field at Mile High so soon after the injury, well, that's not how Breece rolls. He might not have liked getting injured or rehabbing his way back to no-pitch-count status in practice, as he has this week. But he loves ball.
"It's just another football game to me," Hall said after Wednesday's practice at the Atlantic Health Training Center. "It's not that big of a deal."
What is a big deal is the start he's off to in year two. He began with an 83-yard run on opening night against the Bills. Sunday night vs. the Chiefs, he ripped off a 43-yarder, on a toss right this time, gliding to 37 of those 43 yards before first contact.
"I'm still not even a year removed from my injury yet, only nine or 10 months from surgery. I'm honestly just blessed to be back on the field and really being able to play good football again," he said. "I don't look like I really lost a step. It's just a blessing to be out there and be around guys like MC [Michael Carter], Dalvin [Cook], be around guys like Aaron [Rodgers], Zach [Wilson] and Allen [Lazard], defensive guys like Quinnen and Quincy [Williams], just guys like that every day."
Hall's pride his own ability shone through in his description of his long run against Kansas City.
"After the game I was frustrated, I beat myself up about that because running backs are like human erasers and game-changers," he said. "I felt if I score a touchdown there, it changes the whole momentum of the game. It just shows how much I really care, how much I want to make an impact and how much I wanted to win."
Hall was asked about how he'll feel after his next touchdown, which is relevant because in this season's four games he hasn't scored yet, but he finished his college career with an NCAA-record 24-game touchdown streak and then, after getting his feet wet as a Jet, scored in four straight games before the injury.
Again, not something on his worry list.
"I've scored touchdowns before," he said. "I feel like myself. Obviously, I went through the rehab but I still look good playing football. So the touchdowns are going to come. I'm not really worried about that."
His long-distance production speaks of TDs to come as well. With those magical runs of 62, 83 and 42 yards, he's got a career average of 6.01 yards/carry. At the moment, that's the best in the NFL for any back with at least 100 carries since Kenny Washington of the Rams set the mark of 6.14 — in 1948.
Mix in his 79-yard catch-and-run, also from Wilson against Miami last year, and Hall's per-touch average of 6.86 isn't quite as gaudy, just No. 8 among all backs since 2000.
Hall would love to reel off another long gain at Denver and beyond for another reason. There's a pretty good chance he'll be running behind Alijah Vera-Tucker, the Jets right tackle who suffered his season-ending elbow injury one series before Hall's injury last year.
"Yeah, we were out here by ourselves, with Mekhi [Becton] a little bit, too, and some other guys," Hall said of the offseason rehab sessions with AVT. "We made it better for each other by just being there for each other."
Now the Jets are heading 1,600 miles west and a mile high to play a so-far defensively challenged Broncos team. Hall warned fans not to get cocky.
"You definitely can't take them for granted and can't go in there thinking it's going to be easy," he said. "They were one of the best defenses just last year. They're adjusting to their new system and it's always going to take a little time. "We just hope we can go in and execute and do what we do."
What Hall does is what head coach Robert Saleh is seeing again.
"He ran violently last week in practice, and I felt like it carried over in the game," Saleh said. "You can tell he's starting to get his legs underneath him. Even though he's had production, he still hasn't reached what we know he's capable of and what he's shown in the past. But he is another one that's trending in the right direction."
See photos of the Jets during Wednesday's practice in preparation for the Denver Broncos during Week 5.