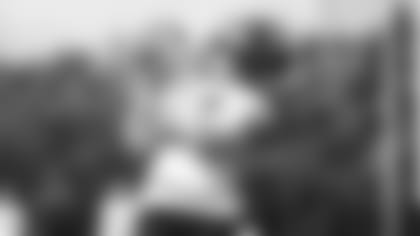 Breece Hall has a few reasons for not seeing the New England Patriots, the Jets' foe Sunday at MetLife Stadium, through the same lens as longer-tenured teammates and long-suffering fans.
He combined those reasons into one pithy quote after Thursday's practice at the Atlantic Health Jets Training Center.
"It's just a football game to me," Hall said of how he views the teams' rivalry. "When I get out there, every time I get out on the field, I want to be the best out there and just go out and play football."
Hall hasn't been a Jet for the four most recent games in the series. And he wasn't a Jet on the field as a rookie for even last season's two close losses. He sustained his season-ending knee injury at Denver one week before the first meeting, the 22-17 home loss to the Pats.
"We look at them as they're a team and we're a team," Hall said, boiling the matchup of longtime division rivals down to its basics, adding about the Cowboys game, "We didn't play as well as we could've. So it's just go back to the drawing board this week, get one percent better every day in practice, and put it on the field on Sunday."
Hall is particularly attuned to being on the field after missing more than half of last season to his injury. He even got into some give-and-take on social media that led some to think he was unhappy about getting only four carries in the loss to Dallas. He said that wasn't the case.
"It ended up everybody making it way more than it should've been," he said. "I'm here, I'm another guy on the team and I'm trying to do my one-eleventh when I'm out there every play for us to be successful, score touchdowns and score points."
There is no question that Hall, when healthy — and he said, "I feel pretty close to being back to what I was last year" — is an offensive difference-maker. The second-round pick out of Iowa State in '22 has unfurled some stunning long gains in his short time as a pro. There was his 79-yard catch-and-run from Zach Wilson vs. the Dolphins and his 62-yard touchdown burst at the Broncos. This year he showed that his knee was feeling pretty good on his 83-yard rush on opening night against the Bills.
So a lot of people were understandably frustrated when the Jets converted just one of 10 third-down opportunities and ran 46 offensive plays, their fewest in a road game since 2013 at Atlanta and their fewest in a road loss since 2008 at San Francisco.
"Everybody's workload was very low this past week," offensive coordinator Nathaniel Hackett said. "I think we had a total of 49 watchable plays, and I think we had two false starts, too, so we just didn't have a lot of plays. That hurts us because we can't get a lot of people involved. There were a lot of people that we wanted to get featured and going on early, but if you don't convert on third down, especially those third-down-and-manageables, you're not going to have those opportunities."
Wilson, getting his fifth turn as a starter against the Patriots and looking not only for his first win vs. the Pats but also the Jets' second win against a division opponent this season, echoed the OC when asked about getting Hall and the running game untracked.
"It starts with us as an offense, entirely," Wilson said. "We need to sustain drives, we need more plays in general, we need to convert third downs. Once we do that, the rest takes care of itself. Those guys are going to get the ball, they're going to do what they're supposed to do, and we're going to be able to play football."
Hall likes his QB and he especially likes the "playing football" part as well as the "best foot forward" catchphrase.
"I've got the utmost confidence in Zach," he said. "I know he wants to do well and we want him to do well. If he's successful, I won't be surprised. That's just the work ethic that he has.
"Our last game didn't go the way we wanted. Everybody said we didn't have the ball that long and we didn't help our defense out that much. But at the end of the day, offense and defense, we felt like we didn't put our best foot forward. We're going to try to flip the script this Sunday."
See photos of the Jets during Thursday's practice in preparation for the Patriots on Sunday.