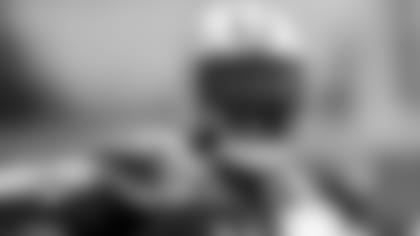 If the spring was any indication, Teddy Bridgewater has a lot of quality football left in him. After signing with the Jets in March, Bridgewater consistently impressed as he continues to work his way back from a severe knee injury he suffered in 2016.
"He's playing at a high level and there is a reason why he was a first-round pick," said fellow quarterback Josh McCown of Bridgewater during the Green & White's mandatory minicamp. "It is great to see him out there competing and I think that he is an excellent player."
Bridgewater, who played a couple of snaps last season for the Minnesota Vikings after missing the entire '16 campaign, was not limited throughout OTAs and mandatory camp. Donning his trademark gloves, he was fluid on the move and accurate with the football. He showed command of the offense and quality arm strength while fitting in well with his new teammates.
"Just being a great leader every day and continue to work on my base," he said when asked what he has been working on. "When you talk about the playing aspect, just continue to work on my base and be consistent. Being a leader every day and come to work with a positive energy and leading my group while we are out there on the field, along with the other quarterbacks leading their groups, and finishing drives."
Instead of focusing on the skeptics who believed Bridgewater had too much of a hill to climb, the fifth-year signal caller pointed to the advocates for motivation.
"I do it for the ones who believed in me," he said. "That small ounce of faith and belief, got me over the hump."
In Bridgewater's mind, his injury is small when life is put into perspective. His mother, Rose Murphy, has been in remission for a few years after being diagnosed with breast cancer. She showed him how to fight and continues to be his biggest supporter.
"She was never really down because she would always say that there is someone else out there whose situation is way worse than mine," he said. "So, (she) can't be down and plus the cancer feeds off of negativity. So (she) had to be positive and that's why I feel like I'm just this positive guy. Watching her continuing to smile and stay upbeat throughout her toughest times in life, it just had a huge impact on me."
Last December, Bridgewater made it back onto the field in the fourth quarter of a Vikings' win over the Bengals. And the month prior, in a game versus the Redskins in Washington, Bridgewater fought back tears as he was activated and served as the team's backup.
"This game means a lot to me. I've been playing football since I was five years old," he said. "It brought tears to my eyes because it showed me that you are never out of it. You're never out of the fight. There were dark days throughout my rehab process. So, you know when you are rehabbing, the light seems so far at the end of the tunnel. But being able to see that light and make it to the light, which is being active and standing on the sideline with my gear on, that kind of hit me a little."
While declining to discuss specifics regarding his knee, Bridgewater says he is getting better every day. Jets head coach Todd Bowles said the team is excited to see what Bridgewater can do in training camp and he figures to push the prized rookie Sam Darnold and the savvy veteran McCown.
"He's a better guy than people said. I think he's great to be around," McCown said. "I've heard a lot of great things about him before and he's even better to be a part of the quarterback room."
The 6'2", 215-pound Bridgewater, still just 25, will open up camp No. 2 on the depth chart. The competition is about to heat up and it wouldn't be wise to write off Bridgewater. He completed 64.7% of his passes with the Vikings and helped Minnesota claim the NFC North in 2015 before the injury. But his story is far from complete and the best still might be in front of him.