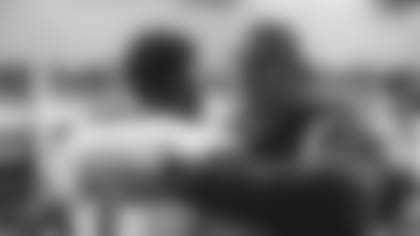 With free agency set to begin on Wednesday, several NFL analysts believe the Jets have a solid foundation is in place.
"I think that a lot of people nationally are blind to how much talent is on this team," Mike Garafolo of NFL Network said at last week's NFL Combine in Indianapolis. "I don't think they realize what a job [GM] Joe Douglas has done with this organization."
Last spring, Douglas landed a seven-player draft class featuring Defensive Rookie of the Year Sauce Gardner, Offensive Rookie of the Year Garrett Wilson and a home-run hitting RB in Breece Hall.
"The Jets and Joe Douglas now have the benefit of the doubt with how they've drafted for the most part that they will get it done," Jeremy Fowler of ESPN said. "Like whatever needs they need filled, they'll get good players in the draft because you've seen that with what they have with the Garrett Wilson's and the Sauce Gardner's. Really, the class that they put together last year has a chance to be one of the greats in the league of the last decade."
With a developing young core, Jets HC Robert Saleh led the Green & White to a three-game improvement from 2021 to the 2022 season.
"Saleh was measured and just clearly a guy that has a vision," said Michael Smith of Amazon.com "That's a natural leader. That's a very effective communicator. And I think, you know, it takes a special kind of guy to not only survive New York, but to thrive in New York, and to have staying power. He has a chance to be in New York as long as he wants to be just with the way he commands not just the organization but the market. I think he's just got thatit factor about him."
With Douglas and Saleh raising the standard, the Jets should be an attractive destination for players who can be part of a team that is changing its narrative.
"If all things are equal, yes, I do think the Jets are more digestible for free agents than maybe they were in the past," Fowler said. "You know, you feel like you're going to a place where you can win, that there's at least hope to win."