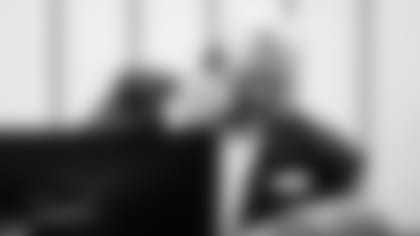 Two and a half weeks out from the 2023 NFL Draft, the New York Jets are riding a wave of momentum as they continue their climb to the league's mountaintop. The narrative has changed surrounding a young team that nearly doubled its win total last season, but there are needs to address with the regular season five months away.
Last offseason, the Jets made a run at a gamebreaker on offense and attempted to trade for Tyreek Hill. But Hill opted instead for the Dolphins, thwarting a deal that would have reportedly seen the Jets send two second-round picks (Nos. 35 and 38 overall) and a third-rounder (No. 69) to Kansas City for Hill and a third-rounder (No. 103). Despite a strong pitch, the Cheetah had South Florida ties and cited state income taxes as part of his decision. Also, the Jets were coming off a 4-win campaign while the Dolphins captured 9 victories in the 2021 season, so GM Joe Douglas knew the combined factors meant an "uphill" battle.
"Early in the rebuild, that's just what it is," HC Robert Saleh said at the 2022 NFL Annual League Meeting. "People want to go to the perceived team that's closer to a championship. But it was like that in San Francisco, in '17 and '18 and then you get [George] Kittle and you draft [Nick] Bosa and you get Richard Sherman in free agency and you add a couple of pieces. And next thing you know, you draft Fred Warner and you hit. Now people just want to come to you. There's no panic — there's no panic at all. Does it get frustrating? Sure, but at the same time, it's something that we've been through, we expect it and it's something that will change eventually."
Eventually might be now. After Hill's decision, the Jets pivoted to Garrett Wilson with the No. 10 overall selection last April. In 17 games last season, Wilson set franchise rookie marks with 83 receptions and 1,103 receiving yards while catching passes from three different quarterbacks. The Jets used their 35th overall selection as part of a draft-pick swap with Tennessee that allowed them to draft edge Jermaine Johnson with the 26th pick. The Green & White also paired the 38th pick with a fifth-rounder (No. 146) and sent them to the crosstown Giants for the 36th overall selection which became Iowa State RB Breece Hall. In just seven games last season before tearing his ACL, Hall averaged 5.8 yards per carry and 11.5 yards per reception.
After starting 7-4 in 2022, the Jets stumbled down the stretch and finished out of the postseason. But after cashing in on a huge opportunity in the 2022 NFL Draft, the Jets celebrated CB Sauce Gardner capturing Defensive Rookie of the Year honors and Wilson following suit with the Offensive Rookie of the Year award.
"It wouldn't have been any competing, it would've been a runaway with Breece winning it," Wilson said. "It's special. We feel like our best days are ahead of us as an organization, as young guys."
The Jets' top priority this offseason has been obtaining a veteran quarterback who can help the young guys take the next step. During an appearance on "The Pat McAfee Show" on March 15, Packers QB Aaron Rodgers announced his intention to play next season and his desire to play for the Jets. The Jets and the Packers have discussed a Rodgers trade and Douglas recently characterized those conversations as "productive."
"We've come a long way in two years," Saleh said of Rodgers' interest. "And to have a guy of his caliber and really there's a lot of guys offering, a lot of guys have wanted to come here and play. There's a lot of excitement around the organization and it's a cool thing to be a part of, so hopefully we can just continue moving forward and capitalize on the momentum."
Douglas added: "I think it's a credit to Robert, his staff, the culture that he's created, the support that we've all been given from the Johnson family, from Christopher and Woody, so it's a real tribute to them."
Packers GM Brain Gutekunst said he would like premier draft picks in a return for Rodgers, but also indicated a first-round pick wasn't a necessity. A year after drafting Gardner, Wilson, Johnson and Hall over the first 35 picks, Douglas holds his first-round pick (No. 13) and a pair in Round 2 (No. 42, acquired from Cleveland in the Elijah Moore trade, and No. 43).
"I mean look, where I'm from, every pick is important and obviously the 13th pick is a high pick in the round," Douglas said. "So you really, really have a great opportunity to bring in a strong player, so picking in the top 15, picking in the top 20, the odds of hitting on those guys usually go up."
With free agency ongoing and the draft on the horizon, the Jets have immediate needs at center and defensive tackle. They have numbers at offensive tackle, but could elect to address that spot early, and linebacker and safety could be in play on Day 2 and Day 3. The rebuild is well underway and the foundational pieces can be seen from blocks away. Tyreek Hill chose another development and he's living well, but the Jets swung big and still ultimately landed Wilson, Hall and Johnson. They didn't panic and there is reason to think the organization's best days are ahead.