Don't go to sleep on Antwan Barnes. Those offenses that do put their quarterback in peril.
"I tell Rex and I tell Mr. Idzik that all the time," Barnes said. "Don't forget about me."
However, Barnes knows it's only human nature that Jets fans have forgotten about his presence on the roster. He came to us last year as an interesting pass-rushing free agent of head coach Rex Ryan's acquaintance with Baltimore. He was entering the prime of his pocket-pressuring career.
He got in five games and turned in a pair of 10-yard QB takedowns, of Josh Freeman in the season opener against Tampa Bay and of Jake Locker at Tennessee in Week 4.
Then late in the Monday nighter at Atlanta, he tore his ACL, went on IR, and hasn't been heard from since. Until now, when he's reminding Jets Nation that he's still around.
"I'm coming along. Everything's going according to plan," Barnes told me in the past several days. "I'm just waiting for the day when they say I can go out there, pretty much. I just started running and everything like that. I'm getting there. I know I'm over 70 percent, according to John [Mellody, head trainer]. He says I'm right on schedule."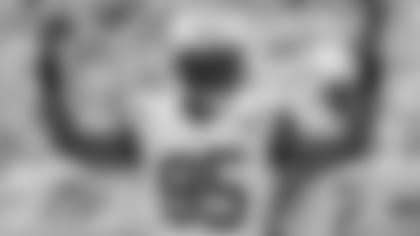 That last 25-30 percent won't happen overnight. Ryan said Barnes won't be in action for the full-squad minicamp that begins Tuesday, and he's hopeful AB will make it for the start of training camp in late July.
It's no slam-dunk, but Barnes is definitely thinking positive.
"It was a bummer. I felt I was in line for a big year," he said about the injury and the long layoff. "But it's just live and learn from things like that. Plus it gave me confidence going into this season, because I know what I can do, they know what I can do, so all I've got to do is just go put it together."
What Barnes can do is visible from the two statistical halves of his pro career. With the Ravens and Eagles from 2007-10, he averaged a sack every 8½ games. With the Chargers and Jets since then, he's averaging a sack every two games.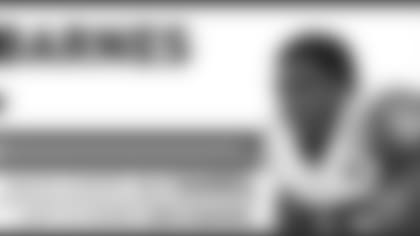 As Ryan said when he briefly lamented Barnes' injury last October, "Talk about an underrated player. It wasn't just the production he had but the production he caused, a guy that runs 4.4 and has some physical gifts. ... He's a special guy, a special player. Obviously he's a great teammate here and he'll continue to be that. I hope he has a speedy recovery."
It hasn't been exactly speedy, but on the other hand Barnes is approaching his goal, which is to be back for the start of camp in Cortland, NY.
"One thing I want to do is just take it slow. I'm not trying to rush back," he said. "I want the knee to be fully healed and I want to be fully ready to go out there."
We've got our fingers crossed. Rex and DC Dennis Thurman will scheme up a pass rush one way or another, but getting Barnes back and fully ready to go would be invaluable to our defense.