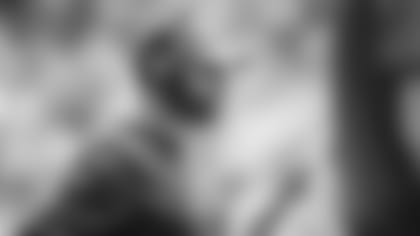 There were no new secret reasons that rose up Sunday in South Florida to explain what cost the Jets the chance for a needed victory and sent them to their 26-18 loss to the previously winless Dolphins. The culprits were familiar from recent weeks.
"We've got to focus on ourselves," head coach Adam Gase said in the Hard Rock Stadium visitors' interview room after his team lost for the seventh time in eight games. "Really at the end of the day, it's us playing well on Sunday. We're shooting ourselves in the foot too much. The penalties are just ... it's not good. We can't have 10 penalties for 100 yards. We're just hurting ourselves."
Later in his postgame session with reporters, Gase repeated some of the causes for this Green & White loss.
"We're having negative plays on penalties and it hurts us. Turning it over, it hurts us. Not getting turnovers, it hurts us."
The Jets technically had only one turnover on the day. It was costly enough and came when QB Sam Darnold rolled to his left trying to find WR Jamison Crowder at the goal line and threw an off-balance toss that was picked off by first-year CB Jomal Wiltz. At least the Jets rebounded from that mistake by adding a safety and a field goal in the final 47 seconds of the first half to trail, 21-12.
"Real time, I thought he was throwing it away at first," Gase said of the interception. "I don't think he saw those guys running into each other when he was coming out. Sometimes on those sprintout plays, you can't see anything until you really kind of break the pocket. I could be wrong on this, but I think if he saw that right away, he probably would've thrown it away real soon. I don't really know the answer to that right now."
But a "non-turnover" was more brutal, coming with 6:29 to play when Darnold was not ready for a shotgun snap from C Jonotthan Harrison near his own goal line, which sailed over his right hand as he was looking left and was knocked through the end zone by Miami's defensive rush for another safety, this one for the home side.
Instead of a longshot 93-yard touchdown drive to deficit to 24-22, the Jets had an even longer shot, trailing 26-15 and free-kicking the ball back to the 'Fins.
On top of that were those 10 penalties marked off against the Jets for 105 yards, which led to third-and-27 and -22 situations on offense and three Miami first downs on defensive flags.
"The negative plays killed us. We can't be second-and-20, second-and-23. That's just a recipe for disaster, which it is. We've got to stay ahead of the sticks," Gase said. Asked later what the problem is with the yellow flags, the head coach said: "Obviously, we've got to do a better job. It's on me at the end."
"We're 1-7. You feel like crap, you know?" Gase said. "You don't put in all this time and effort to come out here and lose. We've got to get things fixed. That's what they know, that's what I told them."
Asked pointedly why Jets fans should have faith in him and his staff to get things fixed, Gase didn't flinch.
"Because that's what we do in football," he said. "You do this long enough, you know it's not fun when you lose. You've got to go back to work on Wednesday. They're not going to cancel our season. We've got to go back to work."
See Best Images from the Road Trip to Miami