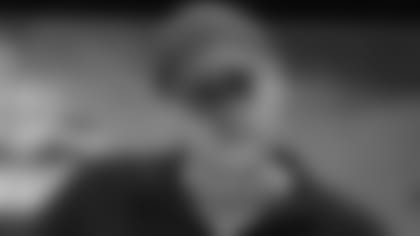 Adam Gase, being an offensive coach who's inherited a good young QB, has been asked a lot about Sam Darnold and the Jets offense in the last month and a half as the Green & White's new head coach. But Gase hadn't really talked much about the defense and about his new coordinator on that side of the ball in Gregg Williams ... until today in Indianapolis.
Gase was asked by reporters this afternoon before the start of the NFL Combine about having had no previous team connection with Williams. He said that's only part of the story for his hire.
"Gregg's name had been brought up to me quite a few times when I was in Miami. I know after VJ [Vance Joseph] left for Denver, his name was brought up quite a bit," Gase said, adding that Joe Vitt, his new OLBs coach as well as his father-in-law, was doing a lot of the recommending. "I think I have a unique relationship where we've known each other for a long time, competed against each other quite a few times. I try to bring that up as much as possible ... not the games he beat us in, the ones he lost.
"Just being familiar with his system, how he does things, how he operates, a lot of the guys he's been with over time, I think there's a lot of lines of connection there."
Gase said Williams' "long time" in the game also helped with the recent revelation that the Jets would stay with the 3-4 rather than shift to the 4-3 that has been a Williams trademark.
"That's the beauty of hiring a guy that's been around for a long time — he's done multiple things over his career," the coach said. "The majority of the snaps are nickel defense anyway. But sticking with our base being a 3-4, the reasoning behind that was in trying to keep as many of the players that are currently here, that understand that style of defense. It's key for us to where now we're not completely starting over. We can keep a lot of the guys we already have."
Gase was asked specifically about a couple of those holdover Jets:
Leonard Williams — "He was always very challenging for us to go against [with the Dolphins]. We'd always account for him, we'd try to double him. He was hard to solve. We basically could not run the football because of him. And he was always very disruptive in our games. We struggled against him in pass protection as well. ... A lot of times when you have a defensive lineman that's causing all kinds of pass disruption, you're going to get interceptions, you're going to get fumbles, you're going to get quarterbacks making the wrong decision a lot of the time."
Darron Lee — "He was always getting beat up by you guys [reporters] but he would play a great game against us. We would have problems blocking him, we would have problems making sure he was accounted for, he'd do a good job in coverage. I think he's the type of player that has a lot of the things you're looking for from that position."
Mix in Pro Bowl safety Jamal Adams, fellow 'backers Avery Williamson and Jordan Jenkins, et al., and Gase had more words of praise for the Jets defense he went up against six times from 2016-18. Even though the 'Fins were 5-1 in those division matchups, they had below-average averages of 18.3 offensive points/game (minus return points), 264 total yards/game, 81.0 rushing yards/game and 3.1 yards/attempt.
"I don't think there was ever a time where I felt great going into a game of hey, we're going to be able to do whatever we want. We always were challenged by this group on defense. I know it was tough to run the ball. Some of our numbers looked better than what it was because a lot of our rushing stats came at the end of the game when we hit a couple of big plays. But for the most part it was always a challenge, whether it would be passing or running the ball."
Gase also had plenty of compliments for his key offensive players at Lucas Oil Stadium, which we'll review Thursday.