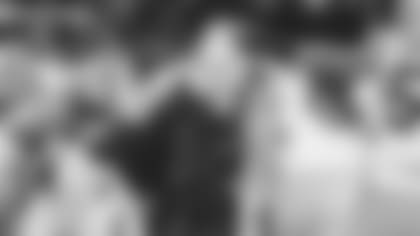 As the NFL has evolved into a pass-dominant league, one of the ramifications has come in the trenches.
With fewer prototypical nose guards, there's less of a need for heavy-weighted centers. Instead, the position calls for more nimble, cerebral players, which, according to head coach Adam Gase, is exactly what the Jets have in Jonotthan Harrison.
"He has a lot of abilities that we need in this offense against the teams we're going to be playing this year," Gase said at the NFL League Meetings last week. "I really saw a lot of good stuff on tape. We're always going to be looking for our players to just keep improving and getting better and learning from mistakes, learning from experience and playing time. And I think he's the kind of guy who does that from what I've seen on tape and in my short conversations with him."
Harrison agrees center is a position that's changed even since he entered the league in 2015 as an undrafted free agent.
"A lot of it is cerebral, getting everybody on the same page, recognizing looks, sometimes adjusting the O-line on the fly if you see something happening," he said. "The NFL is getting away from the heavy-duty nose guards, you see more athletic nose guards that move some, so size isn't as big as an issue nowadays."
The 6'4", 300-pounder started eight games at center for the Jets in 2018 including the final seven. Harrison, who re-signed with the team on March 14, is excited to start working with Gase, whom he referred to as "great" and "super down to earth."
"When you approach him, you don't feel like you have to give him the whole 'Yes sir, no sir.' You can just talk to him," Harrison said. "Talking football with him, he's an offensive mind, and I'm really just looking forward to working with him."
Harrison is confident Gase will create a playbook around the weapons on the team that now include Le'Veon Bell, Quincy Enunwa, Robby Anderson, Jamison Crowder, Chris Herndon and, of course, Sam Darnold. As the Jets kept adding pieces in free agency, Harrison couldn't resist his excitement to be back in green and white for a third season.
"Weapons, weapons, weapons, that's all I'm thinking," he said. "It's going to be huge, it's going to open up our offense so much and we have a lot of great people here, great athletes, but adding to those great athletes, it's really going to be an experience and I'm looking forward to it."
One addition who's not a skill player, but a weapon nonetheless, is Harrison's new neighbor in the trenches in Kelechi Osemele, whom the Jets acquired via trade with the Raiders. Harrison hasn't met or spoken with Osemele, but the two-time Pro Bowler's reputation and résumé speak for themselves.
"We haven't talked yet, but having the nickname KO and that applying to how he plays, seeing it on film, I'm really looking forward to working with him," he said. "As a center, having a guard like him and Brian (Winters) next to you, that's huge and comforting."