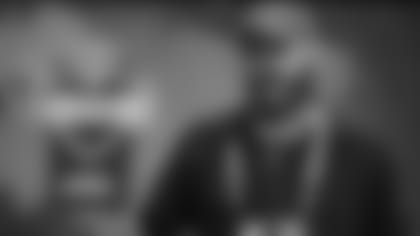 It's not every year that a Jets head coach can step to the podium at Lucas Oil Stadium in late February and talk about entering year two of working with a good young quarterback at the top of the depth chart. But Adam Gase was able to do that regarding Sam Darnold in addressing reporters in Indianapolis as the NFL Combine started to come together.
"If Sam keeps doing what he's being doing as far as what I saw last year from spring to training camp through the season, being able to overcome the adversity he had, I'm really encouraged by where he can go from here," Gase said early this afternoon.
"I think he has, obviously, the skillset. When you see him throw the ball in practice and in training camp and during games, some of the throws he makes, you just shake your head, like, how'd he he make that throw?"
But Gase stressed two bullet points besides Darnold's sometimes amazing, always improving right arm for the season ahead. One, of course, is not up to the QB but to the head coach and general manager, and that's the talent around him.
Specifically, can the Jets re-sign WR Robby Anderson? And whether they do or not, who else do they bring in at the position through free agency and the draft to help out. And who will constitute the offensive line to help Darnold get things done? GM Joe Douglas reminded that only one of last year's five opening-day OL starters, RG Brian Winters, is still under contract. And Gase talked about the brainteaser the Jets have in trying to assemble this year's quintet.
"You try to do the best you can to find the five that will work well together. It's a tough puzzle to put together," Gase said. "I wish it was really easy where you just say here you go and you went and rolled. But that's the toughest part about being GM, where Joe's got to figure out how to put the puzzle together the right way to where we can hit the ground running and we have success doing it."
The other hot topic is Darnold's weekly demeanor in leading the Jets into battle.
"It's just really going to be about the consistency, game in and game out: Can he be the same guy every game? I think that's something he's going to always work on, and hopefully we can get him there this year."
That's important not just because this is the NFL but because as usual, the rest of the AFC East at this time of year is contemplating how to overhaul New England. Is this the year, with the Patriots showing vulnerability in their one-and-done playoff appearance and the uncertainty about Tom Brady's return, that the Jets can make some legitimate inroads?
If Gase was confident about his work on an anti-Patriots potion this offseason, he wasn't tipping his hand today.
"They've won the division so many years in a row," he said. "Coach Belichick's done a great job, and his staff. One of us has to do a good job of outplaying those guys for a full season. It hasn't been an easy thing to do.
"We obviously all want to say yes, but one of us actually has to go out and do it, figure out a way to jump in front of New England. ... I think we've just got to do a good job of focusing on what we have to do to make sure that we're doing everything right in our building."