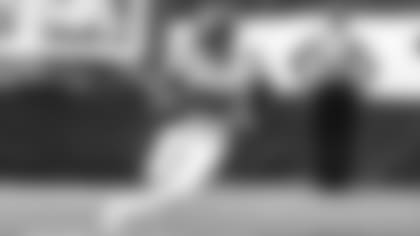 Adam Gase has let the Jets and their fans know how much he values Sam Darnold. And the head coach also is aware that the true sum of the offensive parts won't be known until the players get on the field down the road.
But Gase also leaves no doubt about the offensive talent that GM Joe Douglas and his personnel team have arrayed around Darnold through last week's draft. As the coach said this week, "I feel really good where we're at right now."
Here are some Gase observations about the O's refurbished levels as the Jets head into their virtual offseason program:
Wide Receivers
Some want more help for Darnold & Co. at the wideout position, but Gase likes what he's seeing so far: "I know everyone keeps focusing on wide receiver, which I think will be a pretty good group."
The Jets lost Robby Anderson to free agency but replaced him with Breshad Perriman, coming off a stretch with Cleveland and last year with Tampa Bay during which he played his best ball as a pro. Jamison Crowder leads a group of WRs who return from last year's roster. Quincy Enunwa is seeking to restart his career. Josh Doctson, Washington's first-round choice in 2016, seeks the same.
And Denzel Mims was drafted in Round 2 on Friday night. We know it takes more than speed to make a potent wideout room, but with Mims' 4.38 time in the 40-yard dash at the Combine with Perriman's 4.35 speed, the Jets have gotten faster.
Gase said specifically that he's excited to see what Perriman can do in the Jets offense.
"His skillset fits in well with what we do," the coach said. "He can do multiple things for us. I think he can create explosive plays for us, good things for us run after the catch. It's really going to be about getting him caught up to speed as fast as possible and making sure whenever that time comes when we hit the grass, he'll be ready to go and be able to play fast."
Tight Ends/Running Backs
These are under-the-radar positions that Gase feels will optimize the wideouts' impact: "I look at our tight ends, I look at our running backs, I feel we're in a good spot."
Even with Chris Herndon on the field for only 18 offensive snaps in between injuries and with Ryan Griffin sidelined for most of the last four games, the Jets TEs (including Daniel Brown and rookie Trevon Wesco) had their most touchdown catches (6) since 2013 and their best position passer rating (122.6) of the past two decades.
Gase on Herndon: "We expected him to be a big part of the offense last year and he didn't get that opportunity. So we're adding a guy that is a very good player who's finally going to get back into the mix of this thing."
As far as RB, Le'Veon Bell is eager for a bounceback to his Steelers prime, and among the players added to the mix are Trenton Cannon, who played in four games and on one offensive snap before going to IR, and fourth-round pick La'Mical Perine.
Gase wouldn't predict any kind of Bell/Perine rotation but is still intrigued by the Florida product, taken in Round 4.
"He's one of those guys who's able to do all three phases that you look for in a running back, to be able to run the football, be involved in the passing game, and be able to protect," Gase said. "I think we're getting a guy who is also very hungry and will be playing with a chip on his shoulder. He was obviously surprised that he lasted until the pick that he lasted. Anytime that we can get guys that are coming in like that, that's a good thing for us."
Line
The offense will sputter unless the O-line is plugged in, and again Gase likes what the team has done in adding huge 11th overall pick T Mekhi Becton to FA signings George Fant, Connor McGovern and Greg Van Roten to holdovers Brian Winters, Chuma Edoga and Jonotthan Harrison.
"I don't think I've ever been a part of the amount of the guys that we've brought in, the change out that we've had with guys signing with other teams," Gase said of the OL, "but I really think it's going to come down to how quickly we come together chemistry-wise on the field. All teams are in the same boat here. Who knows when we'll get back on the field, but it's going to be about how fast we can jell together as a group and play well together."