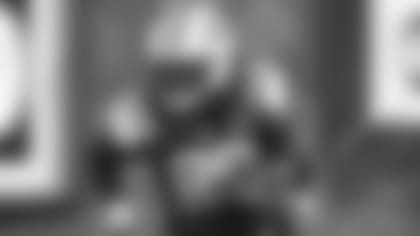 Jets head coach Adam Gase has already expressed his excitement about working for the first time with a quarterback so early in his pro career as Sam Darnold. Gase seems to have a similar anticipation of coaching up a young tight end with the rare skills of Chris Herndon.
"He's a unicorn type of player," Gase said of Herndon. "You don't see a lot of these players that can do all three phases of the game."
Herndon has had that effect on coaches, teammates, fans and media in his first year in green and white, during which the softspoken 6'4", 252-pounder roared with 39 receptions for 502 yards (12.9 yards/catch) and four touchdowns and was named to the PFWA's All-Rookie first team.
"Chris is unique," Gase continued during his remarks Wednesday at the NFL Combine workouts in Indianapolis. "I don't think you'll find a lot of tight ends that are able to be on the field all three downs. Obviously, he's a very good receiver, he's very good in the run game, and he did a really good job in pass protection last year.
"And I think he helps the other guys that are there, the receivers, to where people have to account for him and he may dictate some different coverages."
Herndon indeed is a different breed of tight end than Gase has been used to coaching recently. He did work with Julius Thomas for four years in Denver, first as the Broncos' QBs coach and then as coordinator, and he brought him to Miami for the 2017 season. Thomas, who retired before the start of last season, has similar size and production to Herndon. He was also the last TE Gase has coached who had more than Herndon's rookie receiving yards when he rang up 788 yards — in 2013. And Gase hasn't had a TE since 2010 who averaged 13 yards/catch.
Suffice it to say that Gase is champing at the bit to put his QB and TE unicorns through their paces as soon as the Jets players return to the Atlantic Health Training Center in April.