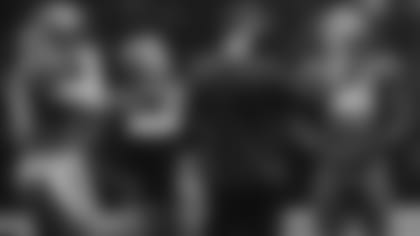 As the Jets begin ramping up practices to prep for their first game of the new season at Buffalo on Sunday, head coach Adam Gase seems to be in a good place.
Asked Wednesday about beginning his second season as the Jets' field general, he said that despite the wild roller-coaster ride every NFL head coach and team has undergone this offseason and preseason, he feels a "smoothness" to the Green & White operation.
"Every year you do this — and this is my fifth year doing this — it changes so much as far as what becomes important to you and how you manage your time and how you maneuver around the building, especially in this unusual year," Gase said. "But I don't know, it just seems like the flow is smoother for me, I feel like. Every year it seems a little different, you know what to focus on.
"I think the communication with Sam [Darnold] has been outstanding. Obviously, it's just so much more comfortable because he's not afraid to ask questions, bigger-detail-type questions, big-picture-type things, and I think that relationship keeps growing. Communication with the players, guys either texting, calling, stopping by, it's just a different flow. Year two is always going to be better than year one."
Of course, fans want to know where the flow is going, what the chances are of the Jets posting a winning record and reaching the playoffs. Gase declined to speculate — "Well, let's get to Week 1 and see what happens," he said in response to a pointed what-if question about another sub-.500 season.
But despite the unknowns brought on this year by the Jets' and the NFL's handling of the COVID-19 pandemic, the coach still feels a positive vibe from his team. He continued to tout Darnold's mental and physical grasp of the scheme in year two, and with the return of nicked-up receivers Breshad Perriman and second-round rookie Denzel Mims to the WR group on the field, he likes how the offense can shape up.
"Yes, I like the guys that we have, I like the weapons we have," he said. "I feel like everybody's forgetting about some of these guys that we didn't have last year. Chris Herndon was a pretty good player that first year that they played together, and just getting him back alone I'm pretty fired up about. Adding Frank Gore with Le'Veon [Bell] and then you start adding [rookie RB La'Mical] Perine in there, you start adding Perriman, Mims, [Braxton] Berrios, Chris Hogan, I feel pretty good."
While Gase wasn't asked directly about the defense Wednesday, he has said that despite the trade of Jamal Adams to Seattle and the COVID opt-out by LB C.J. Mosley, he still sees the elements that made his and coordinator Gregg Williams' unit a solid contributor last season.
"I do think one of the reasons that our defense was able to be successful was they were on the same page," Gase said early in training camp. "And when you have 11 guys that are on the field and everybody's going in the same direction, they're all trying to execute their assignment, that's what helps make a successful defense. I think our front, with the depth we have, with the interior guys, that's really something that we'll always be leaning on, because obviously we're going to try to build through the front, both offensively and defensively. I feel like we have good depth in that linebacker room."
Moving to safety, he said: "Obviously Marcus [Maye] being back, he played extremely well last year, did a lot of great things, and we've got a lot of young guys that are kind of filling in in that secondary and we've got to find the guys that are going to be our starters who are guys that are going to play and get things done. I think adding Bradley [McDougald] is big because we got a guy that's played a lot of football and played on a good team and made a lot of plays."
The team concept crosses individual position rooms and unit meetings for the Jets' head coach. On Monday during his joint news conference with GM Joe Douglas, Gase stressed the unity no doubt is part of the smooth flow he's feeling four days before the rough seas of a new season begin.
"I'm really excited about this locker room. I love the way this group operates as a unit," he said. "The way this locker room does things as a group, I've been really impressed with how these guys operate day in and day out. I can't think of a better group of guys that I've been around to where these guys come in, they go to work every day, whatever is asked of them they put their head down, they go to work. I'm really excited."