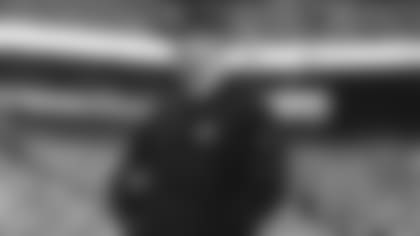 Hours before the Jets and the Giants had kickoff Sunday at MetLife Stadium, Aaron Rodgers was back on the field, bouncing around and slingin' the rock. Nearly seven weeks after he tore his Achilles tendon against the Bills, Rodgers wore a pair of comfortable "Super Dads" and took another step forward in his rebab.
"They basically have a little half circle on the bottom," Rodgers said of his sneakers during his weekly appearance on the Pat McAfee Show. "It allows me to get from my heel to my mid-foot, to my toe pretty easily. Last week was a tough week of rehab, but we kind of adjusted to things with the shoes and with my insoles."
Rodgers, the four-time NFL MVP, returned for warm-ups two weeks after firing passes prior to the Jets' upset of the Eagles.
"Later in the week, I really started to progress kind of back on to what I was doing a few days before that and that was honestly the goal was to kind of just keep on getting better, be able to do a little bit more," Rodgers said. "I've been doing a little bit more in my rehab and feeling like I can get into a little abbreviated left/right, left/ right drop. And it just felt normal to be out there and mess around with Timmy (Boyle) a little bit and play catch. Feel like I was a part of it — that's what's it's all about. That's why I've been flying back here to see the guys, encourage them, be on the headset. For me, that's just fun to be able to feel like I was kind of part of it and not too distant from the squad."
While no timetable has been put on Rodgers' recovery, he reiterated his desire to return to action this season.
"The goal is to come back," he said. "And the goal is to be able to have that conversation. And again, there still is a lot that has to happen. Every week seems to be there is a progression. Sometimes when you're in it, it doesn't think anything is happening and you're just stagnant and there is some kind of plateau. And then you look back and think you were on crutches about a month ago — now I'm able to take some dropbacks and put some legitimate weight onto it, transfer my weight, get onto my front foot, do really high percentage body weight walking and calf raises.
"We're just progressing and it's really good," he added. "There still is a long way to go and a lot of things have to happen. Obviously, we have to be still alive, but God I love the vibe on the team, I'm proud of our guys, I'm really proud of Zach (Wilson) there late in the game with two huge throws and a clock with a second left to get us in position."
While the Jets needed overtime to take down the Giants, 13-10, Rodgers has entered a critical time in his rehabilitation.
"Most people are kind of just coming out of a boot 6-8 weeks and definitely not in a shoe.," Rodgers said. "Once you get into the shoe, you're getting obviously more movement there, the tissue fibers and muscle fibers are starting to turn on more, there obviously is more blood flow going there. Because I was in a shoe in a couple of weeks, we've accelerated that process significantly. We've been very, very careful with not trying to mess this thing up."
The ever-positive Rodgers, who continues to be ahead of schedule, is also realistic about the climb that remains.
"The thing we have to remember I need to be able to move," Rodgers said. "Otherwise, why the hell would I come back? I need to be able to play from under center and get to an outside zone handoff and get to a keeper and be able to move in the pocket otherwise I'm not doing our team, myself, my career, any favors. So, I need to be able to move. A lot's got to happen. I'm not even jogging yet. I'm just taking some nice dropbacks, so a lot has to happen."
"I think now that the walking has really normalized and I'm able to walk pretty normal, pretty standard, that I think things can progress into jogging and moving. But today is Tuesday, it's seven weeks and a day since the injury. Tomorrow will be seven weeks since the surgery. We're ahead of schedule, but a long way to go."