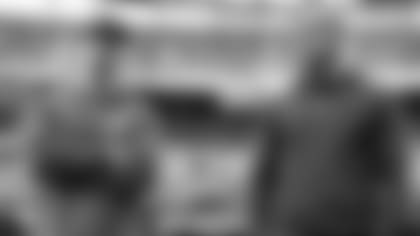 While Aaron Rodgers continues to make progress in his recovery from a torn Achilles tendon, his progress has been more modest than it was shortly after after he was injured against the Bills on Sept. 11.
"It's been a tough week of rehab," Rodgers said Tuesday on "The Pat McAfee Show." "It's been smaller gains. I think when you get to a certain point, you're not having the jumps that I did early on. It's been more of a grind the last week or so, but a lot of good things we're trending towards."
Rodgers said his next goal is walkingnormally before anything else. After reaching that benchmark, Rodgers expects his rehab will gain speed.
"Just trying to get down to 100% walking as far as it looking normal," said Rodgers, who emphasized the goal is to stress the Achilles — not stretch the tendon. "After that, I think that I will start to take a bigger jump. Once I can start walking normal in a shoe, which is close, really close, then we'll make a jump."
One of fans' the biggest surprises came whenRodgers came out before the Jets-Eagles game on Sept. 15 and, minus his crutches, tossed the ball around.
"I assumed from the day before at rehab that maybe I left them in the car and instead they were kind of behind the door," said Rodgers, who continues to use the Atler G (Anti-Gravity Treadmill). "So we left, went to the airport and were taking stuff off to the car and it was like, 'Oh, there are no crutches here.' So I was like, ok, that's kind of apropos — that means I'm done with crutches."
Over his first 18 NFL seasons, Rodgers experienced several injuries, including an ACL tear, other knee injuries, a Jones fracture and broken collarbones. Rodgers explained why this rehab process is more difficult.
"This is a tough rehab for sure because there are just so many little muscles that you kind of have to re-wake up," Rodgers said. "It's not just the calf muscles and the tibia muscles and the foot muscles, it's just everything I need to work as a unit. So, you're trying to teach the fibers to fire at the appropriate time. You have to be careful walking too much with a limp because you're going to start adjusting to certain things. That's why we do so much work on the Alter G, walking at a lower body percentage to try to retrain yourself to have the proper gait, to get everything firing at the same time. …. We're trying to get to a perfect gait a lower percentage and then get everything firing eventually at 100 percent and we're getting close. The muscles kind of around the Achilles are obviously straining to balance for the Achilles which obviously isn't 100% at this point, so there is some strain on them. But the surgery that I got, I feel great about what Doc (Dr. Neal S. ElAttrache) did, the protection that my Achilles has, and the ability to push the rehab."
On Sunday, Rodgers will again be in attendance when Jets take on the Giants at MetLife Stadium. The Jets had been banged up heading into the bye week, and Rodgers is confident many injured players will return to action.
"I think a lot of our guys are going to be back, which will be great," Rodgers said. "It's a big game. We're the road team kind of in our own stadium which is kind of strange. Thankfully, we have our locker room which I believe we still use."
Prior to the game, Rodgers, a four-time NFL MVP, plans to have a catch with the Giants' former QBEli Manning. During his Monday night appearance on the "ManningCast," Rodgers said his pregame tosses against Philly gave him a sense of normalcy and he reiterated that he would "love to" come back this season.
"I invited Eli to do a little catch with me on Sunday, so I'm planning on being back for our game as the road team at MetLife," he said. "I'm excited, I've missed the guys."