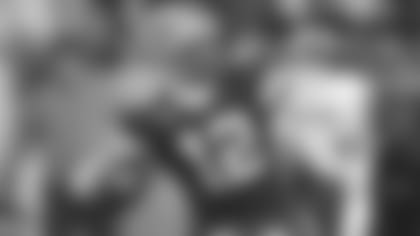 We've detailed all of new Jets veteran QB Aaron Rodgers' main career statistical achievements and awards earlier on newyorkjets.com. But there are several lesser-known numbers regarding Rodgers' 18 total seasons and 15 as the Packers' starter that are every bit as intriguing. Here are seven of those significant stats:
2.37
From his rookie season of 2005 through last season, Rodgers unofficially has averaged 5.84 plays/drive, 17th-most among all QBs since 2000. He's also averaged 34.39 yards/drive, seventh-most; and 2.37 offensive points/drive, third-most. (Patrick Mahomes is No. 1 at 2.81 points/drive.) Here's where A-Rod stands in drive stats among the 44 QBs who have directed at least 1,000 series since 2000:
Table inside Article

| Category | AR Rank, Avg | NFL Leader | Avg |
| --- | --- | --- | --- |
| 3-and-out % | 4th, 18.4 | Peyton Manning | 15.2 |
| Turnover % | 1st, 8.1 | Russell Wilson (2nd) | 8.9 |
| Touchdown % | 2nd, 27.8 | Drew Brees | 28.1 |
| Plays / Drive | 5th, 5.84 | Matt Ryan | 5.95 |
| Yards / Drive | 2nd, 34.39 | Drew Brees | 34.64 |
| Points / Drive | 1st, 2.37 | Drew Brees (2nd) | 2.35 |
4.56
Football folks know about Rodgers' TD pass/interception differential. He's thrown 474 regular-season TDs to 104 INTs, a 4.56-to-1 ratio that is the NFL's all-time best, and Nos. 2, 3 and 4 aren't even close. Those placeholders are Patrick Mahomes (3.92), Russell Wilson (3.14) and Tom Brady (3.06). Rodgers could face the first two of those prodigious passers this regular season: at home against Mahomes and the Chiefs, on the road vs. Wilson and the Broncos.
9
Rodgers has the two highest single-season passer ratings in NFL history among qualifying QBs. He hit what still is today his personal best of 122.5 in 2011. Nine seasons later in 2020 with Jets OC Nathaniel Hackett serving in the same capacity in Green Bay, Rodgers nearly matched that with a 121.5. Peyton Manning is third with a 121.1 in '04.
Rodgers has nine seasons with a 100-plus passer rating his career, while the Jets have two 100 ratings in franchise history: Chad Pennington's 109.9 in his first season as a full-time starter in 2002 and Vinny Testaverde's 102.4 in the AFC Championship Game season of 1998.
10
Rodgers, in his storied tenure as the Green Bay starter, has surpassed 4,000 passing yards in a season 10 times. The Jets, in their 63-year history, have had only one QB do it. Of course, that one time in 1967 was quite significant, since Joe Namath reached 4,007 yards in the 14-game AFL season to become the first pro QB to clear 4,000 passing yards.
236
That's the number of Rodgers regular-season and playoff starts in which he has engineered at least one touchdown drive as the Packers QB, out of 238 total starts (not including six starts when he was injured and left the game early). The only two opponents to keep Rodgers out of the end zone? New Orleans (38-3 Saints win in Jacksonville in the 2021 opener) and the Jets (9-0 Packers victory at then-New Meadowlands Stadium in 2010).
4,900
One thing Rodgers hasn't done in his career is reach 5,000 total yards — that's passing yards plus rushing yards — in a season. In NFL history, that figure has been attained only 28 times by 16 different QBs. No Jet has ever come close to that round figure, and Rodgers' best regular season was 2011, when he amassed 4,900 total yards (and 4,681 if we subtract sack yardage). No time like the new season to attempt to join the 5,000 Club.