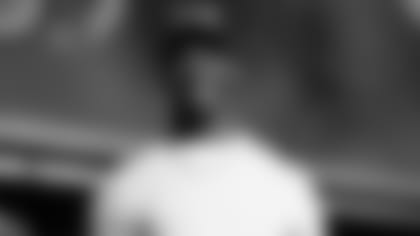 The Jets continued to wow the hardcore draft media as well as the casual Green & White fans with their attacking style in the 2022 NFL Draft. Latest aggressive move, after all teams restacked their boards following Thursday's Round 1, was to trade up with the Giants (!) and tab the best RB in the draft in Iowa State's Breece Hall.
This after selecting three of the top eight players on their original value board in CB Sauce Gardner, WR Garrett Wilson and edge rusher Jermaine Johnson.
Here are six things intriguing things we've learned about Hall:
Momentous Player
Iowa State HC Matt Campbell has had a few pithy observations over the years in Ames, IA, about his bellcow back, such as about his impeccable film study and his professionalism. But two words stand out for the coach: consistency and moment.
"To me, the word is consistency for Breece," Campbell said on 247sports.com. "There's a real sense of professionalism and consistency that he brings to how he attacks the sport. And that part has allowed our team to really be able to use him in the most critical moments. You talk scoring, those are critical moments.
"And Breece has always been ready for the moment."
Trivial Pursuit
Hall's impressive rushing and receiving statistics are available elsewhere. But a few other more esoteric numbers confirm the kind of quality back that will soon be arriving at One Jets Drive.
■ He didn't fumble in college, putting the football on the turf once every 200 offensive touches. Do that in the pros and you're in Curtis Martin's class.
■ He set an FBS record by rushing for at least one touchdown in 24 consecutive games. And since Game 24 with a TD came in the past season's finale, Hall informally and unofficially brings that 24-game streak with him from the nation's heartland all the way to North Jersey.
Load Him Up
One more set of numbers has some ISU and Jets fans concerned about the wear and tear on Hall's 5-11, 217-pound frame. He has the most offensive touches in FBS and FCS combined in the past two seasons (591) and the past three seasons (800).
But Hall is apparently not among the worriers. "Just being able to touch the ball and have a lot of opportunities," he said, "that's all that I need."
NFL Lineage
We mentioned Hall's relatives in the news story on his selection by the Jets. Cousin Roger Craig was huge for a number of years, not to mention a three-time Super Bowl winner, for the San Francisco 49ers from 1983-93. And his stepdad, Jeff Smith (no relation to Jets WR Jeff Smith, needless to say), was a 10th-round pick of KC in the 1985 draft and a four-year backup back for the Chiefs and Bucs.
Breece, in fact, wore No. 28 in cardinal and gold at ISU in Jeff's honor. Unfortunately, Hall can't wear 28 in green and white. His lineage runs into a little bit of Jets lineage in Martin, whose No. 28 was retired at MetLife Stadium in 2012.
Confidence Men
Add Hall to the confidence men the Jets took on day one. First pick Sauce Gardner and third Round 1 pick Jermaine Johnson are both team players who also aren't afraid to toot their own horns if appropriate. Hall has a similar streak.
"What I'm able to do with the ball in my hands is unmatched by every other running back in this class," Hall told Big 12 Sirius XM radio last week. "As much of an impact as I can make on the field, I'm going make off the field. You're going get the best of both worlds, on the field and in the community. You're going get a great person and player."
"If it's an old-school running back with a new-wave edge you were seeking in the NFL Draft — you got him. Iowa State's Breece Hall is as throwback as they come. Standout rusher with top-end speed? Check. Soft enough hands to catch passes out of the backfield? Check. Low-to-the-ground and balanced blocker? Checkmate.
"In New York, Hall will become an immediate threat with star potential.