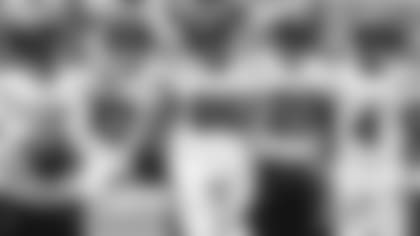 The Jets begin the AFC East phase of their 2022 schedule, which will have them playing four of their six games against their division brethren in a six-game span, the first three all at home for the first time since 1985. And it all starts with the Miami Dolphins, who can be explosive in their Tyreek Hill-led offense but can help opponents do damage due to their porous pass defense in the early going.
QBs remain stories for both sides. Zach Wilson gets his second start and his first at home after returning from his knee injury, so he's looking to go 1-0 at MetLife. And he'll be trying to outpoint Teddy Bridgewater's Miami offense, with starting QB Tua Tagovailoa sidelined by a concussion.
These are five Green & White players to watch as the 2-2 Jets strain to get over .500 for the first time this late in a season since opening 2017 at 3-2.
QB Zach Wilson — Wilson was certainly worth watching, especially for his start and finish to the Jets' second incredible comeback of the season, at Pittsburgh Now in Zach's first home game of his second season, the packed house will be ready for a Zach attack. That's especially because he should be able to throw effectively against the Miami pass defense, which is 31st in both yards/game (299.3) and yards/pass play (7.77) allowed, 30th in INT rate, 27th in sack rate and 30th on third downs (50% conversion rate). WR Elijah Moore showed how dangerous he is in the passing game last year and rookie Garrett Wilson has gotten up to speed quickly this season. But watch Corey Davis, who has risen up at timely times in the two wins and whose 17.4 yards/catch is tied for the NFL's sixth-best receiving average.
DL Quinnen Williams — "Q" has been heating up with 2.5 sacks and 6 QB hits (as well as two penalties drawn vs. opponents) in the last three games. Bridgewater has been sackable in the past but also remarkably resilient and productive considering Miami is his fourth NFL team in four seasons. But first things first. Williams, C.J. Mosley and the run defense can't let featured back Raheem Mostert get rolling. Mostert's averaging a career-low 3.8 yards/carry, but he can turn on the burners, as he did when he was a a 49er, for an 80-yard TD on the first play of the Jets' home opener in '20. Quinnen and company need to stone the run, then they can have fun.
CB D.J. Reed and S Lamarcus Joyner —While it won't take a village to cover Hill, it will take an entire secondary. The superstar WR leads the NFL with 477 receiving yards on 31 catches so he's averaging 144 yards/game and 15.4 per catch. Rookie Sauce Gardner will of course figure in coverage, but Hill has done much of his early damage on Reed's right side of the defense. D.J. will have to run stride for stride with Tyreek a few times, and he could use help over the top from Joyner and Jordan Whitehead. Joyner was the safety star at the Steelers with his career game highs of two INTs and four PDs. Whitehead also would've had two picks if not for Carl Lawson's roughing-the-passer error at the end of the first half. They've got to put one of Saleh's mantras into operation: No explosives over the top, especially from No. 10.
WR/KR Braxton Berrios — Berrios and Wilson showed the power of their relationship with the Jets' first TD last week, as Berrios got the ball from Garrett Wilson on a reverse and then tossed to a wide-open Wilson in the end zone. It was not only the first TD catch by a Jets QB but it also made Berrios one of only two Jets (joining Brad Smith) to have at least one TD receiving, rushing, returning and now passing in his Jets career. Berrios' offensive versatility can come into play at any time, but this game could give him a chance to bust out some returns, considering the Dolphins are 22nd in punt-return defense, 31st in opponents' net punting average, and 32nd in kickoff return defense.