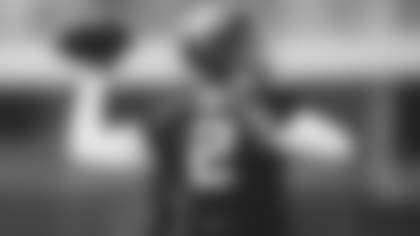 Zach Wilson has an ideal goal for himself heading into the final four games of his rookie season.
"Just keep improving, keep getting better, being able to leave games and say maybe I was able to pull some positive things out that I struggled with early," the Jets quarterback said following Thursday's practice. "Just keep the team in good situations, and throw it around."
One thing Wilson didn't struggle with four games ago was trying to figure out and defeat the Miami defense's zero blitz. He was still two weeks away from returning from his knee rehab, so Joe Flacco took the QB reins on Nov. 21 at MetLife Stadium in the Jets' 24-17 loss.
But the Dolphins are certainly ready to get Wilson up to speed when the teams complete their home-and-home down at Hard Rock Stadium in Miami Gardens on Sunday.
"Causing chaos, I think, is one of their biggest things," Wilson said. "Getting to the quarterback, the all-out pressures, thinking you got to be in the perfect look, then you try and do a lot of different things to get into the right look and then they do something different. I think they just do a good job of making you feel like you've got to do a lot to beat it.
"I think it's going to be an awesome challenge. I'm looking forward to going against it because I think it's just going to help me be a better quarterback."
Wilson has no lack of advice. Flacco is one source. Even though he didn't come out with the win, the veteran completed 24 of 39 passes for 291 yards, touchdown passes to Jamison Crowder and Elijah Moore, two sacks on eight QB hits and a 101.5 passer rating.
"Just the way he approached it," Wilson said of what impressed him about Flacco's showing that day. "The game plan that we had, I thought, was a good one, and he did a good job just going through his rules and simplifying it in his mind and just playing fast and just reacting to what he saw."
Wilson knows if he survives the blitz, he'll then see strong man coverage, especially on the corners with Xavien Howard and Byron Jones.
"Yeah, really good players," he said, "but from an offensive standpoint, we can't be afraid to go after them and test them for sure. We can't just sit back there and say, hey, just because they're good corners, we can't just not throw the ball at them. We've got to attack them and just do what we normally do on offense and come out just going after them."
Wilson also knows he's got stuff to work on that have less to do with the 'Fins than with himself. He was asked about his accuracy dropoff from BYU to the NFL, particularly in the short passing game.
"Yeah, it's of course frustrating because they should be the easier ones, right? And I need to have that comfortable feeling of what I had last year. But it's a different situation. I'm throwing to different guys than I was last year. ... It's all adjusting, it's a new offense, a new scheme, there's new guys rushing now, I got new guys blocking for me. And so, it's just adjusting to all of it, and I need to be able to be comfortable back there and understand it's part of the process, it's going to get better with time."
As will that old QB challenge, playing loose, something Wilson will be seeking not just at Miami but in the last three games, against the Jaguars and Buccaneers and at Buffalo to wrap up his rookie campaign.
"Personally for me, I just need to play loose and not try and be such a perfect pocket-passing quarterback all the time," he said. "I'm just trying to do so right by the coaches and what they're asking me to do, and a part of it is I need to just be loose and play free, obviously play within the offense but just react and throw the ball like I've always known how to throw the ball.
"And that's what's so cool about these next games. Even with what we've gone through, the struggles of it all, I feel like you've got to kind of go through all that to pull the good stuff from it. So I'm excited for the challenge, just to be able to apply that approach every single week the same way and how I can just keep improving."
See the Top Photos as the Jets Prepare for Sunday's Game at Miami