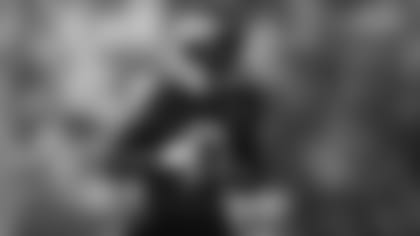 Zach Wilson has shown himself for stretches to be an effective passer. On occasion he's been an electric runner.
This week the Jets quarterback needs to show his skills as an expert blocker.
"I don't look at any of that stuff," Wilson said following Thursday's practice when asked about some harsh analysis provided by Jets fans and reporters following the three-interception 22-17 loss to New England. "I focus on what's going on in this building with me and the guys and with what my coaches are seeing that's going on in the game."
"Zach's always said it — he's never read it, he doesn't look at it, he doesn't want to look at it — and I believe him," offensive coordinator Mike LaFleur said of the lightning rod nature of Wilson and his position in the Jets universe. "I know a lot of people do say that. Whether it's true or not, who knows? But I think he blocks all that stuff. He's got enough on his plate to not worry about what everyone else is thinking. He's just focused on his own job and going about that."
Wilson's job is always about seeking the perfect balance, whether it's offense/defense, run/pass, aggressive/conservative. He found that sweet spot when he returned from his summer knee issues and contributed to the Jets winning four consecutive games, with him and his offense not putting up one interception or putting down one fumble.
The Patriots game, despite a good start and a scrambling finish to make it close, was a home disappointment. But Wilson has set his jaw and steadied his focus and won't let the ups and downs of his profession throw him off track.
"It's just football," he explained about how a strong first 28 minutes of the game could be undone by three midgame picks in less than 20 minutes off the game clock. "You've got to have a short-term memory. You've got to make plays when the play before didn't go well. And we're going to keep growing and try to get better at that."
Wilson's balance also includes weighing how to describe the Buffalo challenge. He could play his comments about the 5-3 Jets' chances against the beefy 6-1 Bills close to his vest, bland and neutral. But that's not a part of Zach's aggressive nature.
"They're just a great overall defense. They do a lot of good things. They're obviously one of the best defenses, one of the best teams. So it's going to be a great challenge, and I'm really excited for it," he said. "I think we can do some good stuff against them."
And for anyone who missed that scintilla of self-assuredness, the second-year QB repeated it in his answer to a followup question.
"These guys are good," he said. "But we're good. We're a good team. And we're close and things are getting closer every week. I think for us, it's going out there and taking on the challenge of understanding that we can beat these guys. We've just got to go out and execute. Execution is the key."
LaFleur likes aggressiveness, whether it's in Wilson's play, his tight ends' blocking or his own playcalling, but not a the expense of carelessness. That's one of football's many lessons that the Jets are stressing this week. Another, the OC said, is to make sure his QB
"Ultimately, it's on me to make sure this whole offense is making the right decisions," LaFleur said. "The NFL is tricky. It's hard to win football games. A lot of times it's not pretty, and it doesn't need to be pretty.
"We're there to support Zach. Like I've said numerous times, he's made of all the right stuff. He'll learn from it. He's approached this week of practice, I'm not going to say, any different. But he's in the right mindset to go do right for himself and more importantly, for this team."
See the top photos from Thursday's practice leading up to the home game against Buffalo.