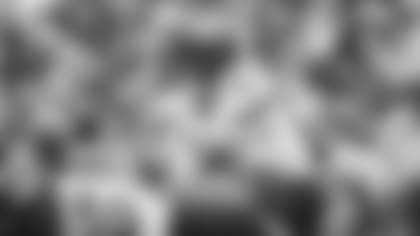 Footballs aren't built like Trivial Pursuit playing pieces, plastic "pie plates" with six compartments for all those little wedge-shaped pie pieces. There's only one pigskin per play, not six, and sometimes it doesn't get distributed evenly to all the players.
Such has been the case with second-year Jets WR Elijah Moore. Not only did he have no receptions at Green Bay but he had no targets. And QB Zach Wilson wants to assure Moore that the ball is still coming his way.
"You look at the last couple of weeks and we just haven't thrown the ball much and a lot of opportunity hasn't gone around," Wilson told reporters following Thursday's practice for Sunday's almost-cross-country trip to Denver. "It's not a thing where I'm trying to avoid him, because he's a great player and I'm just going through my progressions. We're talking about routes and how we can clean things up every week. It's just about being patient and trusting the process.
"I only had 10 completions last week. We won the game, so it's awesome. I love him and I hope he understands he's special to our team."
All that is true, yet also with football, it's dizzying how things sometimes change. While Wilson was still rehabbing his knee, Joe Flacco and the offense completed 92 passes and ran the ball 57 times. The 38.3% rushes-to-receptions ratio over those three games was the most pass-heavy offense in the NFL. In the past three games, with Wilson back under center, the Green & White have 95 rushes to 43 receptions, a rush/catch ratio of 68.8%, the third-most rush-heavy offense in the league in that span.
Even if those percentages are parts of winning game plans, players can puzzle over the imbalance. How does offensive coordinator Mike LaFleur deal with that?
"I'm not worried about one side or the other, and that's the truth," LaFleur said Thursday. "You want balance, but you want balance amongst a lot of different factors, in terms of who's touching the ball, the run/pass, whatever. But each and every week is going to be a little bit different. We might be the exact same as last week, or we might be the exact opposite, or it might be somewhere in between. You never really know, and our guys know what the plan is moving forward each and every week, and I'm confident they're going to go and execute it."
And while LaFleur didn't hand out any printed sheets with the Denver game plan printed on them, it could be that the Jets may decide, or may be forced by the Broncos' strong passing defense, to lean on Michael Carter, Breece Hall and the run game to help get the Jets to a 4-0 record on the road and 5-2 overall in this so far delightful first half of the season. And that's OK with Zach, too.
"When you can hand off the ball as well as we have, it opens up the passing game," Wilson said. "Then we have to do better in the pass game when we do get those opportunities. For me, it's just how can we continue to learn and grow, and those opps are going to come. When we play an opponent that maybe takes the run away, we're going to have to open up with the pass. We just adjust to what they're giving us."
Still, unless that happens Sunday at Empower Field at Mile High, call it Quarterbacking 301, in head coach Robert Saleh's occasional college-course vernacular, as Wilson keeps Moore in the loop with quarterback/wideout communication that is anything but trivial, especially the way the Jets' season has unfolded so far.
"We just keep encouraging him. We love him," Wilson said. "I know how important Elijah is to this team, and so we're going to do everything we can, and we're winning games, we're having a lot of fun. Really, all we can do is just keep learning and growing. And let Elijah know I need him."
See the top photos from Thursday's practice leading up to the road game in Denver.