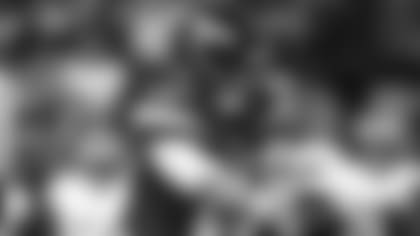 Robert Saleh wasn't tipping his hand much regarding the status of quarterback Zach Wilson's right knee, injured during a non-contact dive late in the first quarter at Philadelphia on Friday night.
"No update yet. We're going to wait on the MRI to get more details tomorrow," the head coach told reporters following the Jets' interesting 24-21 double-comeback victory over the Eagles whose intrigue paled in relation to Wilson's second knee injury in less than a year. "We'll wait till tomorrow. I'm not going to put anything out there, just let it play out and we'll see it tomorrow."
Hours earlier, Wilson didn't open his second preseason as quarterback of the Jets against the Eagles the way he surely expected to. He generated no points and 33 yards of offense in his only two series of the night. His first series ended on his first interception since last December.
And his second possession ended, for him, at the end of a 7-yard scramble, with 3:43 left in the opening period, from which he came up limping.
Wilson appeared to injure his right leg on a non-contact cut back inside rather than taking the ball out of bounds. He was helped up by a teammate, hobbled back toward the huddle, then sat down on the field before he got there. After an extended conversation with the Jets medical staff on the turf, he got up, walked off the field and into the team's Lincoln Financial Field locker room, all under his own power and all without a limp.
Word came a few minutes later that Wilson had injured his right knee, with no word on how severe it is. Afterwards, Saleh said he understood the knee was stable but other than that gave no details of what the team's medical staff determined.
"I'm still optimistic. That's s never going to change with me. ... I'll keep saying my nightly prayers and we'll see what happens," Saleh said, adding that in the locker room following the win, Wilson "was in good spirits, he's fine. A little frustrated but as good as you can be in these situations."
Wilson's stat line for his short night's work: 3-for-5 passing for 23 yards, one interception and no sacks and that one rush for 7 yards. He left the game with the Jets trailing the Eagles, 14-0. But with Joe Flacco on the sideline and not in uniform, Mike White came on at QB and led the offense on that drive to a 26-yard field goal by Eddy Piñeiro to trim that deficit to 14-3 with 1:28 gone at the start of the second quarter, then to a fighting 2-yard touchdown run off left tackle by undrafted rookie Zonovan Knight in the third quarter.
Finally, recently signed journeyman QB Chris Streveler came on for more action than he no doubt anticipated. He led the Jets offense from behind twice — first on a 10-play, 69-yard drive to a fourth-and-a-foot play-action dart to rookie TE Jeremy Ruckert for a 17-14 lead with 8:10 to go, then to a 5-yard line drive to rookie WR Calvin Jackson in the back of the end zone for the 24-21 lead with 16 seconds to play.
Wilson's INT was picked off by LB Kyzir White on a toss over the middle intended for veteran WR Corey Davis. It was the first pick Wilson had thrown since Game 12 of last regular season, at MetLife Stadium ... against, as it turns out, the Eagles, with S Marcus Epps making that theft. Wilson had gone 158 game passing attempts in between interceptions. That streak, of course will be restarted at 155 straight throws without a pick when Wilson returns to the field for the regular season.
And Saleh, OC Mike LaFleur and the rest of the Jets coaches, players and fans hope Zach's return is sooner than later.
"Anytime your starting quarterback goes down, especially in a preseason game, it's a bummer," White said. "First of all, we were all worried about Zach as a friend. Then from a team standpoint, we wanted to know how the starting quarterback is.
"It was great seeing him in the locker room after the game. He was in good spirits, talking with the guys and celebrating with the team. But we've all got to wait and see."