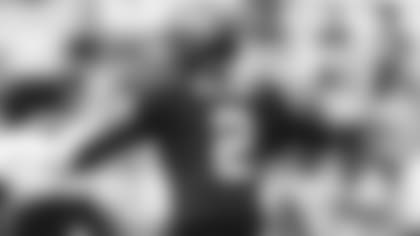 Year two for Zach Wilson has been predominantly upbeat, lots of bull's-eyes on the field and praise from coaches and teammates off it. But not perfect.
Fans and media tend to dwell on the imperfections a bit. But for the young quarterback, his offense and his team, the melody comes courtesy of Bing Crosby, the lyrics by Johnny Mercer:
You've got to accentuate the positive,
Eliminate the negative...
"I feel like every day I've learned a bunch trying to improve," Wilson said after Tuesday's second day of padded training camp practices. "I think we're getting better as a unit, so I'm excited about it."
A great example of Wilson's perspective came at the end of the morning practice at the Atlantic Health Training Center. The 11-play drive during thud 11-on-11 drills took him and the offense deep into the red zone. But on fourth-and-5 from inside the 10, Wilson was "sacked" when DL Jabari Zuniga roared up the gut to end the march and the practice.
Success? Failure? Wilson took his cue from "Der Bingle."
"I do know we had a good long drive there at the end," he said. "I think that was good for us as an entire unit. You could see guys were tired. That was really good because that happens in games. You're tired, you have to be able to focus, you have to be able to think. I think that was a good drill for us."
Despite the sack? Wilson wasn't going to eliminate that negative down the memory hole but he wasn't going to accentuate it too much, either.
"I've got to trust it," he said of the play call. "We're going against the cloud [formation] over there. C.J. [Uzomah] or Conk [Tyler Conklin], one of our tight ends, is running a good route. I've got to be able to step up in the pocket. We'll watch it on film, but I want to be able just to stick it on him there and hopefully he falls in the end zone. That's why we ran the play, for that exact reason. So I'm excited to try and learn from that one."
Robert Saleh saw the rough ending to the smooth drive similarly.
"You know what? Sometimes you just get beat," the head coach said. "Zuniga showed up right when he was about to let it rip. And it's real football, it just happens. If it was one of those situations where he could've stepped up and maybe extended the play ... but I think 'Zu' won pretty clean and didn't give him a chance."
Maybe the best observation on Wilson's year two development may be that while he has plenty to work on and improvements still to be made in accuracy, drive metrics and points, red zone is the one area in which Wilson showed a flair for the positive as a rookie.
Of the 31 NFL quarterbacks with 30-plus red zone pass attempts in 2021, Wilson was sixth-best in the league with a 102.9 passer rating, built on six touchdown passes and no interceptions. His offenses converted 16 of 32 RZ opportunities into TDs, a 50% rate that was below the NFL's 58.5% rate yet was also better than the Jets' 48.5% rate for the past 10 seasons combined.
So for impatient Green & White watchers, are there things for Wilson to clean up? Absolutely. Is a fourth-and-5 sack under heavy pressure on the sixth day of camp one of them? Hardly.
"You want everyone to play at a Hall of Fame level, right?" Saleh said. "But we also understand the progress at which he's developing and how hard it is to play the quarterback position. What I can say is he's definitely better than he was a year ago at this point. He has more control, more command of the huddle, he has more confidence than he did a year ago. And today I did think he had a really nice day in terms of just running the offense and showed a lot of accuracy, got the ball where it needed to be.
"He's going to continue stacking up days, and the more comfortable he gets with the scheme, the more you can see his athleticism and arm talent come to life. He's getting better."