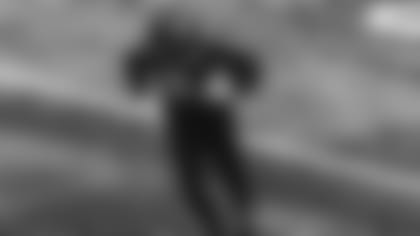 Denzel Mims' first season in the NFL hasn't gone exactly as scripted. He fought through injured hamstrings that cost him the first six weeks of his Jets rookie season, then had to sit out Seattle due to a family emergency.
But none of that has taken the spirit out of the quiet but determined second-round rookie as he heads toward his and the Jets' last three games of 2020, and his first full offseason with the Green & White in 2021.
"For me, it's just to go out there, compete, play hard and put good things on tape," Mims said after Wednesday's practice. "For the team, I want to try to finish out strong, try to get a win — get three of them if we can. We're going to focus on this game we've got right in front of us in the Rams. And for the rest of the season I want to try to do everything I can to help the team."
The Rams in Los Angeles will be a tough assignment for the 0-13 Jets, similar to last week's cross-country trip to Seattle. The Seahawks were 8-4 before last Sunday's game, the Rams are 9-4. The 'Hawks have a superb unit in their offense. The Rams have top-10 units on both sides of the ball, but their defense is one of the best in the NFL — led by DE Aaron Donald and CB Jalen Ramsey, L.A. is No. 1 in the league in total yards/game, total yards/play, passing yards/game and passing yards/play.
A big matchup for the second-round wideout from Baylor in his return to action could be going up against Ramsey, the fifth overall selection out of Florida State in the 2016 NFL Draft. But Mims is taking a bigger-picture approach to Sunday's matchup.
"I really haven't thought about it," he said of going up against the Rams' No. 20. "I've been watching film of both their corners, really trying to watch the whole defense, and just focus and try to see what we can do differently. ... I know we've got to come to play Sunday. We've got to try to be perfect in all angles of the game."
If Mims is sharp and Sam Darnold's passes are crisp, perhaps the Jets could find a way to move the ball better than they did at Seattle. The young WR has 19 receptions for 324 yards and a 17.1 yards/catch average that is second-best among qualifying rookies behind only the Raiders' Henry Ruggs at 18.0.
That's because Mims has 6 catches of 20-plus yards and at least one 20-yarder in each of the five games preceding the Seahawks game. So he'll be looking to get some separation and make another high-agility downfield reception or two to keep that streak going.
Whatever he does in the final three games, Mims said he won't be satisfied with the status quo in Year 2 in green and white.
"I feel like I can get better at everything," he said. "The main focus for me is I want to be labeled as a good route runner. That's what I'm going to work on a lot this offseason, to be good in that area and good in everything else. I want to be that go-to guy. So I'm trying to do everything I can to impress the coaches and my teammates so they can put trust in me."
See the Top Photos from Practice at 1 Jets Drive