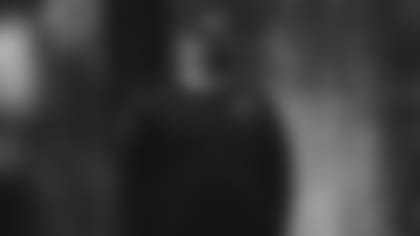 Everyone has opinions on what the Jets should do when the NFL's unrestricted free agency signing frenzy commences next week. And that includes some of the league's big talking heads in NFL Network's Ian Rapoport and Tom Pelissero and CBS Sports Insider Jason La Canfora.
All three spoke with newyorkjets.com hosts recently, with Rapoport and La Canfora chatting with Eric Allen and Ethan Greenberg while Pelissero spoke to Olivia Landis. Here are some highlights from those interviews.
Will the Jets have a high or low profile when the UFA signing period starts with negotiations permitted next Monday and signings can begin Wednesday?
Rapoport: "I would not expect them to come out and make a big splash this year. ... Joe Douglas, I think, would like to be someone who thrives on Thursday-Friday-Monday-Tuesday-Wednesday rather than someone who makes the biggest splash on Monday at 12:01 [a.m.]."
La Canfora: "This is a chance for Joe Douglas to really start molding the clay and using these assets at his disposal, whether it's draft picks or available payroll, and obviously the cap is not an issue for them whatsoever. And they don't have a lot of their own mouths to feed. ... So yes, I think they will be active in free agency."
Pelissero: "The Jets have capital in the draft, they have cap space, they have a lot of maneuverability. Joe Douglas has been preparing for this moment. ... There are lot of different things they need to accomplish — a rebooting on offense and defense, new schemes, new culture — and that's going to lead to a lot of new players and certainly it's going to be an exciting couple of months.
Which potential San Francisco FAs could be attractive to former 49ers DC Robert Saleh and the Jets?
La Canfora: "Richard Sherman would probably make a lot of sense [although] it kind of seems he's got something cooking with Jon Gruden in Vegas. ... I wonder what some of their cuts might be. They've got an injury situation with Dee Ford, they've got a few things that are probably a little more complicated than they'd like. Kyle Juszczyk, is he going to be a dude who hits the market? That would make a whole lot of sense for that offense and knowing what they like in a fullback and getting a guy who's athletic, freakishly talented, who has the hands he has, who can be a lead blocker, who can carry the ball, who can run intermediate routes, who can run wheel routes 50 yards if you want. That would be another potential 49ers cap casualty who would make sense for the Jets."
Rapoport: "Richard Sherman is probably the name everyone talks about. I think he's still got a lot left, he's a good guy, he's solid, and obviously the connection with Saleh is strong. But you know, I'm not sure in a bidding war the Jets are going to win. They could win, but I'm not sure they're going to be primed to spend like crazy. ... But the 49ers do have some free agents. They have Trent Williams but the Jets have a left tackle. They have [CB] Jason Verrett, they've got [S] Jaquiski Tartt. But I'm not sure I see a pathway directly to the Jets. It's rarely that simple mostly because everyone else gets a shot at these players, too."
Who are some non-49ers players the Jets might be interested in signing?
La Canfora: "A guy like [Ravens OLB] Matt Judon, look, is he a natural over-the-top pass rusher? No, but he does everything well that I think Joe Douglas would believe in. He can drop back, disrupt the ball in the air, he can rush a little bit outside, a little bit inside, he can set the edge, and he will absolutely improve your run defense. I think Robert Saleh would look at him and say, 'Wow, that's a pretty interesting interchangeable piece that could have some success.' ... I think [Ravens OLB] Tyus Bowser's another athlete like Judon with maybe even longer arms, a little twitchier, only 25 years old. He didn't play a ton all the time in Baltimore, but when he did, he made a real impact."
Pelissero: "I don't think it's any secret they need help at wide receiver. There's a pretty good group of wide receivers, pending the franchise tags. It would be a surprise if Kenny Golladay or Allen Robinson or Chris Godwin simply becomes a free agent. [Detroit did not franchise-tag Golladay but Chicago tagged Robinson and Tampa Bay tagged Godwin], but could there be some tag-and-trade possibilities there? And you've got some potentially intriguing older veterans in free agency like A.J. Green and T.Y. Hilton, who are not going to command top-of-the-market money, they're still going to get paid, but they could be interesting fits."
QB Sam Darnold isn't a free agent but his situation could still impact the Jets in free agency? What are your quick takes on Darnold?
Rapoport: "I think the Jets 'options are incredible: Trade Darnold for a premium pick and select the quarterback of the future, or keep Darnold and have the option of trading out of 2 for an unbelievable package, or just take the second-best player in the draft whoever that person. It's a great spot for the Jets to be in and I really don't know what the right answer is because I've seen Sam Darnold be really, really good, I've seen him be not available, and I've seen him be not as good. One of those is going to be what his career is going to be like. I just don't know which. But that's what the Jets have to figure out now. What is the best way to move forward?"
Pelissero: "Really, it all starts with what the plan is at quarterback. Right now Sam is the quarterback of the Jets. He's still a young guy, he's still a talented guy, and based on conversations I've had with other teams around the league, there's a lot of people who believe the Jets could talk themselves into the idea that whatever Sam Darnold has done to this point, based on his athletic skillset, his arm strength, his makeup, he could be a really good fit for what [coordinator] Mike LaFleur wants to do on that offense in terms of it's going to be run-heavy, zone running game, working play action and bootlegs off of that. Darnold is geared for doing that."