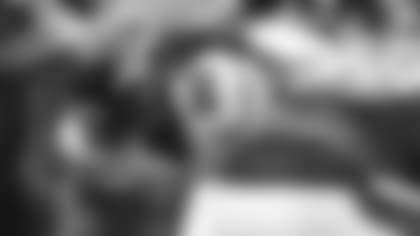 Bob Wischusen has been the radio play-by-play voice of the New York Jets for 18 years. Beginning this week and lasting all season, Bob will share thoughts pertaining to the Green & White in a weekly column - "Wischusen's Point of View".
1. All Three Phases
When you struggle on offense, the only chance a defense has to stay in the game is if special teams at least does its job to try and give them some type of field position to work with. The Jet kickoff group has done a terrific job of time after time pinning the opponent deep, if not generating a touchback. Lachlan Edwards has done a very good job of consistently kicking the ball from deep in the Jets end, if not out of the endzone, to a position on the field where the defense has at least a chance to go play and getting Sam Ficken now gives you an opportunity to at least field from a normal, NFL average field goal distance that you're going to put three points on the board. They have taken the ball away. They have scored on special teams and they've at least shown the ability to help from a complementary football standpoint. If special teams keeps this up coupled with Sam Darnold's return, I think you'll see the advantage that they've had on special teams show up even more.
2. Steve McLendon
For Marty Lyons and I, one of our main tasks after every game is to go straight to the Jets' locker room and interview players for the postgame show. Obviously, over the course of 18 years, we have seen plenty of ups and downs. One of the truest tests of character, in my opinion, has always been when the losses pile up, when the times are at their most difficult and when very few players want to talk to the media, who can we ask some tough questions to after a game is over and who will we know is always going to be there to face the music, answer the questions and speak to the fans? Steve McLendon has always been one of those players. You can very easily see how his leadership qualities are so infectious for the rest of his teammates because he is always willing, no matter how debilitating a loss might be, to stand there, answer the tough questions and speak from a leadership standpoint about what must happen to change things around. So, you can't get a better example of a rally around the leader type player, a leader by example, a leader through his actions, a leader through his play, but also, a leader through his words than Steve McLendon. When times are at their toughest, as they are right now for the Jets, they should thank their lucky stars that they've got a player with his type of character to be that pillar in the middle of that locker room that they so desperately need.
3. Neville Hewitt
When we first got word that Avery Williamson was done for the year, my thought was that maybe, from an injured starter perspective, the spot the Jets are best equipped to absorb because their linebacker corps is relatively deep. Last season, Avery Williamson never came off the field. So, there was some natural concern that Neville Hewitt is going in to replace a player that never came off the field, there'd be some growing pains. The fact that the transition has been as smooth as it's been, is such a credit to Hewitt. I'm not sure if folks realize how difficult that position is to play, especially because without C.J. Mosley the last several games, he's had a rookie in Blake Cashman next to him. So, Neville Hewitt is responsible for being the quarterback of the defense for helping everyone get lined up, for making sure the rookie next to him knows his assignment. He has done, not only a magnificent job of all that, but has been able to play full speed without thinking as his evidence by the numbers he's put up. So, when you're talking next man up, there is no better example of that on this team than Hewitt.