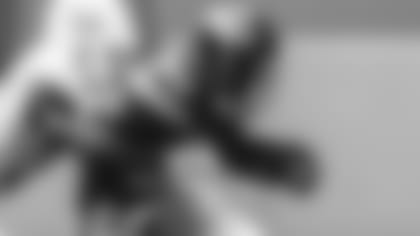 Bob Wischusen has been the radio play-by-play voice of the New York Jets for 18 years. Beginning this week and lasting all season, Bob will share thoughts pertaining to the Green & White in a weekly column - "Wischusen's Point of View".
1. Importance of Jets vs. Giants
They both have young quarterbacks and they both have relatively new, if not brand new, head coaches. Over the past couple of years, they have both made trades, even with each other, to either help build their team for the future or acquired draft picks in the coming years. Both teams seem to understand that their rosters need to be retooled. But make no mistake about it, there is absolutely an unspoken rivalry between the two teams as both occupy the same stadium, in the same city. So, although both teams are in a rebuilding mode, to say that this game on Sunday doesn't mean a lot would be disingenuous. Of course, it means a lot. It's the No. 1 media market in the world, both teams garner attention, whether for good or bad. If you turn on any big ESPN show, whether it be a talk show, a television show, a podcast, on the radio, normally the Jets and Giants at some point will come up. Both teams have struggled this year, however both teams have more wins than the Cincinnati Bengals. Does anyone on any national show ever mention the Cincinnati Bengals? The answer is, no. But the Jets and Giants will always get mentioned, so winning this game and at least for one afternoon, winning New York is important. There's no question about it.
2. Injuries
There's an old saying in football, that one man's misfortune or injury is another's opportunity. And certainly for (Josh) Adams and (Paul) Worrilow that can be said, especially considering the length and breadth of the Jets' injury reports so far this season. It's not unusual for the Jets to have 15, 20, 25 names on their injury report. They've gone six-deep at middle linebacker to this point. So, for a player like Worrilow, coming off a torn ACL, trying to keep his football career alive, you would have to think this opportunity for the Jets would be met with open arms, and sometimes you can find a diamond in the rough. Sometimes you can find a player that's so desperate to stay in the league, that any opportunity gives them a chance to show that they're still worthy of being in the NFL. The Jets also need depth at running back and it certainly says something about Adams, that they've been able to keep him out of other teams' hands by signing him to their roster. So hopefully both players, if given an opportunity, will take full advantage of it, but it's nice to see that guys have a chance to keep their careers alive when injury misfortune befalls others.
3. Jamison Crowder's Impact
Jamison Crowder's presence has helped Sam Darnold and the Jet offense in so many ways. From the slot, he's probably the most difficult matchup that they (Jets) have to offer an opposing defense. It's very hard to find a slot corner that can cover him with any consistency. On top of that, the Jets have struggled in pass protection. Which means that a slot receiver running short, quick routes, has a much better chance to be an option for the quarterback. Crowder has become a security blanket for a young quarterback, in every way that we anticipated that he would. And throw in the fact that he is a tremendous competitor. Obviously, he takes so much pride as a professional in his craft and every single snap, plays with the same intensity, no matter what the score says on the board. He has been exactly what the Jets hoped he would be. As this offense hopefully improves and as the Jets hopefully add to their pass protection, hopefully he will be able to stay as a part of this offense and be productive in the future. Because there is no reason to think in future seasons, that he won't be every bit as valuable and important to them as he has been this season.