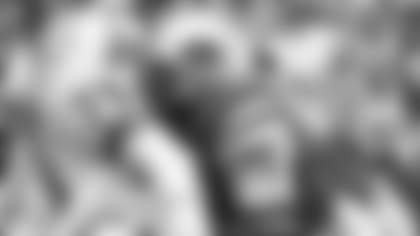 Earlier this week we wrote about the Jets family that is celebrating Winston Hill's posthumous induction into the Pro Football Hall of Fame. But there is another Hill family that figures in No. 75's ascension into the game's hallowed shrine and that is his immediate family, headed by his children, Heather, Hovlyn and Marc.
How many members of that family will be in Canton for the enshrinement ceremonies in September?
"As many as they'll let us bring," Heather said. "We'll definitely have all of the immediate family there, his sisters, his nephews, maybe even a few more if they can make it. My dad was so beloved, and they're all in agreement that his induction may have been overdue but we'll take it right on time. He's always been our MVP."
Fans of the Jets and of Broadway may recall having heard Heather's name before. The Broadway part is easy since she's a professional actor and singer currently appearing in Phantom of the Opera. But also, being a singer, she has played MetLife Stadium before, performing the National Anthem before several Jets games.
Her first time was in 2009 at Winston Hill Day, when his uniform number was retired.
"I think my dad was more nervous than I was. But I loved it," she said. "I knew I could stand and deliver, but it's another thing when you have 75,000 people around you in a circle. I wanted to honor my dad and my mom, Carolyn, too. It was just a tremendous honor for me. I was so proud."
Then for a more select group of Jets and NFL fans, those who have visited Denver or who live around there, they may have heard one more development in Winston's Denver days. Green & White faithful recall how he and the fam moved to Colorado in 1968, before the start of the Jets' Super Bowl season.
"Dad was told by his coaches, 'You need to move to Colorado,' '' Hovlyn told news9.com. " 'Your asthma is giving you fits at sea level. You need to move to Colorado where the air is thin. And then when you do your training in the offseason it will strengthen your heart and your lungs and you won't get winded.' He took a cross-country trip with my mom. And they thought it was beautiful and said, 'This is where we're staying.' "
After football, Hill sank his Rocky Mountain roots deeper still. In the community, he worked with such groups as Gilliam Youth Services and the Denver Indian Center. And he helped with the Denver Broncos, mentoring young players and even serving as the team's fill-in pregame chaplain for 20 years.
"I think my dad was the only non-Bronco who was invited to more Broncos-only parties," Hovlyn said. "He was an honorary Bronco."
And of course the community also remembers Hill's restaurants. The BBQ Pit and Winston's in Denver and Winston Hill's Ribs in nearby Centennial. Odds were good that if you had a hankering for barbecue in those days and went into one of his establishments, Hill would be in the kitchen preparing the ribs and brisket himself.
So the great news is that the sisters, in honor of their father, this spring are relaunching his Centennial takeout place as Winston's Smoke.
"He would wear his Super Bowl ring and Ring of Honor from the Jets," Heather said, "and they would speak to having a dream and accomplishments. And I'm sure he would've done the same with this honor. He deserves it. He was an incredible player and an even more amazing man and human being. With this incredible honor, he would've been so proud, and my mother and his mother would've been so proud.
"And we're just so proud of him."