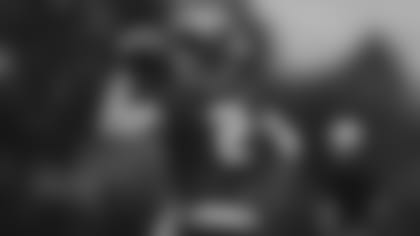 Throughout the season, NewYorkJets.com reporters Eric Allen, Ethan Greenberg and Randy Lange will each give their predictions to a series of questions regarding this year's Jets.
Today's question: Will Zach Wilson and the Jets Offense Keep Its Positive Momentum vs. the Falcons?
EA: Yes. I like this matchup for the Jets offense on multiple levels. The Falcons are last in the NFL in scoring defense (32 Pts/G). They are tied with the Colts and the Buccaneers in pass TDs allowed with 11 and they are yielding 4.5 yards per carry. As Josh Kendall recently noted in the Athletic, the four QBs the Falcons have played this year — Jalen Hurts (PHI), Tom Brady (TB), Daniel Jones (NYJ) and Taylor Heinicke (WAS) — have averaged a 120.1 passer rating. Heinicke gave the Falcons fits last week with his feet and we've seen how dynamic the athletic Wilson is outside the pocket. Starting Falcons nickel Isaiah Oliver injured his knee last week against Washington and was replaced by a rookie in Avery Williams, a fifth round pick from Boise State. The Jets offense got going against the Titans and it was no coincidence that Jamison Crowder (7-61-1TD) was back on the field. And for all the electricity Wilson provided with his down the field passing, he played patient ball while connecting on 14 of 18 on his passes of 7 yards or less. If the Falcons don't dramatically change their approach, Wilson could see a lot of Cover 2 looks. Crowder, Corey Davis (4-111-1TD) and Keelan Cole (3-92) combined for 14 catches, 264 yards and 2 TDs last week. I envision Wilson picking up where he left off and the run game to get some more traction against a Falcons defense off to an uneven start.
EG: I believe so. Zach Wilson's first three games in the regular season each came against a top-5 defense in the NFL and the offense struggled as a whole. After totaling 20 points through three games, the offense put up 27 points against the Titans, the NFL's No. 17 overall defense. Wilson threw for a 297 yards while completing 61.8% of his passes, both career-highs through four games, and 2 TD passes. Now the Green & White will line up against the Falcons' 23rd-ranked defense that allows a league-high 32 points per game. The Jets haven't been able to establish a similar running attack to Week 2 when it rushed for 152 yards, but I think the offense has a real chance to fire on all cylinders if they can establish the run. This scheme is predicated on the run and play-action, so if the Jets can do that Sunday at Tottenham Hotspur Stadium, I think they'll have a chance to enter the bye week with 2 wins. Another reason I think the offense will keep its positive momentum is because of the Jets' defense. They've played extremely well and kept the team in games throughout the early parts of the season. Wilson & Co. have a good opportunity to execute at a high level this Sunday against a defense that's statistically struggling.
RL: As Wilson offered to reporters this week: "I wouldn't say we've fully arrived. ... We've got to stack blocks, just keep getting better." The Falcons' pass defense presents an opportunity to do that. Past results are no guarantee of future performance, as my accountant likes to say, but those results can suggest what might happen. Wilson and the offense are coming off their best passing and total yardage game of the seaosn in the OT win over the Titans. Meanwhile, the Falcons pass defense is giving up 11 touchdown passes, tied for most in the NFL, and their opponents' passer rating overall (120.1) and on third down (132.6) are the lowest in the league. The Falcons were scorched by Washington's Taylor Heinicke on off-schedule rollout TD completions, while Wilson, with a stronger arm than Heinicke, did the same vs. the Titans. Additionally, the Falcons have lost nickel Isaiah Oliver to a knee injury, and if S Erik Harris (calf), arguably Atlanta's top cover DB, has to miss the flight to London while Jets WR Elijah Moore can retur to action, the Jets could have an extra personnel edge. So, yes, the other team gets paid, too, but it just feels as if Wilson and the offense may be able to stack a few more blocks in Londontown on Sunday.