In a vote by his peers, Jets DL Muhammad Wilkerson earned the No. 42 spot on NFL Network's Top 100 Players of 2014.
"I think he's the greatest football player that I've ever had the privilege of playing with," said Jets LB Demario Davis.
Wilkerson, a 6'4", 315-pounder, established career highs in 2013 with a team-leading 10.5 sacks in addition to 91 tackles.
"Muhammad Wilkerson can rush inside, he can rush outside and he can ruin your best game plan," said ESPN analyst Jon Gruden in the NFLN video.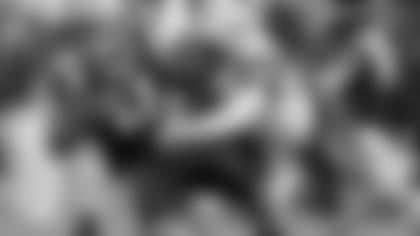 A pair of offensive linemen who faced Wilkerson last season and will again in 2014 commented on what makes Wilkerson such a force.
"He's very active," said Raiders T Khalif Barnes. "He likes to get that center, that guard coming down and over-stepping and beat you across the face."
"He's got well about the average athleticism of the guys that we handle inside," added Bills C Eric Wood.
Wilkerson, a second team All-Pro selection who did not receive a Pro Bowl invite, has racked up 18.5 sacks and amassed 234 tackles in three pro seasons. The 24-year-old Temple product, who was selected No. 30 overall in the 2011 NFL Draft, has also collected four forced fumbles, 10 passes defended, one interception, one fumble recovery and a touchdown.
Congrats 2 big bro @mowilkerson being named #42 in the NFL top 100. We need a recount, the man is Top 25 at LEAST. #Ez — Demario Davis (@YouAreFree146) June 12, 2014