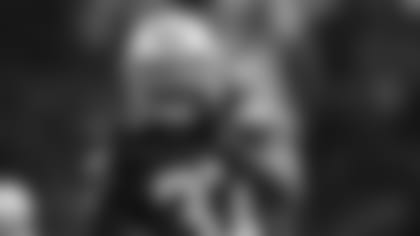 J.J. Wilcox, one of the Jets' most recent veteran signees, is a safety by trade and a versatile player by nature.
"I've played free safety most of my career," Wilcox told me during the mandatory minicamp. "I hit like a strong safety, so I can play in the box. And I can play in the dime Will linebacker position, too."
And if we want to go back even farther, the 6'0", 212-pounder started his career at Georgia Southern as a wide receiver, then spent two years at running back before moving to defense as a senior. He's been around the formation.
Wilcox also has had to be versatile, as in quick on his feet, career-wise recently. In 2016 he played his fourth season in the Cowboys' deep middle. Then he left for Tampa Bay as an unrestricted free agent, was traded to Pittsburgh on the eve of the regular season, and was released by the Steelers after this year's draft.
It appeared he was going to sign with San Francisco earlier this month, only to suddenly fly cross-country and join the Jets. He captured that entire transition process in a word.
"It was a three-way decision. It was the 49ers, the Jets and my family," he explained. "We came to a decision that it was best to come here.
"It was an opportunity that was un-turn-down-able and you've just got to take it."
With Rontez Miles' knee injury that will reportedly keep him sidelined several months, the Green & White had an opening and Wilcox can fill it. As a student of the game, he was aware of the depth chart at the position with starters Jamal Adams and Marcus Maye and Terrence Brooks at one backup. He was also very familiar with the ex-Cowboys contingent now on the Jets — CB Morris Claiborne, whom he played alongside at LSU and then for four seasons in Dallas, and WR/KR Lucky Whitehead.
One more element that attracted Wilcox to the Jets was head coach Todd Bowles.
"He was trying to get me [at Arizona] when I was coming out of the combine," he said. "They went with 'Honey Badger' [Tyrann Mathieu], not a bad pickup on their end. But at the same time, I had familiarity with Coach Bowles, who I met with before and after the combine. He was a defensive-minded coach, he played the position. When you look at that kind of stuff, you want to go to a guy that knows your position who knows how to make players into great players."
Wilcox knows how he'll be spending the next month before training camp begins: "I'm going to work out. I'm going to try to visit with Jamal and work out with him, visit with Mo. And I'm going to enjoy my family."
Then he'll return in late July and fit himself into the Jets' safety landscape.
"You've got to know where you stand and know your role," he said. "Whatever my job is that the coaches give to me, I just want to be the best I can be."