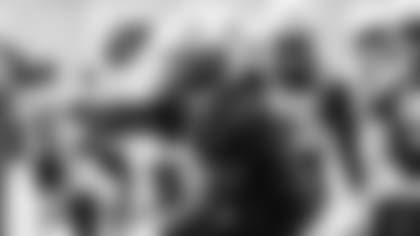 Over the next several days, NewYorkJets.com reporters Eric Allen, Randy Lange and Ethan Greenberg will each give their predictions to a series of questions regarding this year's team.
Today's question: Who Will Lead the Jets in Sacks?
EA: The Jets are guaranteed a new sack leader in 2018 after the club elected to get younger at inside linebacker with the signing of Avery Williamson. Demario Davis, now a Saint, led the way with five sacks in an impressive 2017 campaign. The "Big Cat" had only two QB takedowns, but Williams did pace the defense with 28 QB hits. He remained a disruptive performer despite playing through a left wrist injury that hindered his combat in the trenches. Back healthy, Williams' goal will be finishing more but offensive coordinators are going to make sure No. 92 doesn't see a lot of one-on-one assignments. Head coach Todd Bowles and defensive coordinator Kacy Rodgers potentially have a lethal secondary and they are going to create some matchup issues due to the luxury of man coverage in the back end. I actually might take the field, though, and that's a compliment to Leo because he's going to free folks up on the outside. But he'll safely be in the clubhouse with more than five.
RL: Has to be Leo Williams in his big rebound year with the Jets' best secondary in the last 4 years helping out the pass rush.
EG: The Jets added three defensive lineman through the draft in selecting Nathan Shepherd, Folorunso Fatukasi and trading a seventh-round pick to the Colts in exchange for Henry Anderson. With three new bodies up front, I think it opens up some space for Leonard Williams and keeps him fresh. At the conclusion of the 2018 season, Williams will have a new career-high in sacks. His current best came in 2016 when he racked up seven sacks and was selected to the Pro Bowl. I feel like the NFL world may have forgotten about Williams a little bit last season. Don't wake up a sleeping Big Cat.