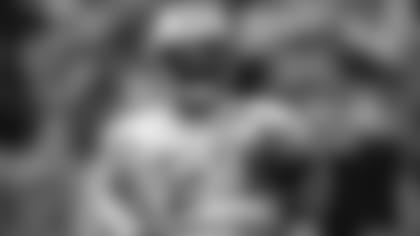 Over the next several days, NewYorkJets.com reporters Eric Allen, Randy Lange and Ethan Greenberg will each give their predictions to a series of questions regarding this year's Jets.
Today's question: Who will lead the Jets in rushing in 2018?
EA: Most difficult question on the board. You would think this comes down to Bilal Powell or Isaiah Crowell, but running backs coach Stump Mitchell also was very excited about the way Eli McGuire flashed this spring. The backfield will feature strength in numbers, but I'm going with Powell. BP will turn 30 in October and his 2016-17 seasons were his two most productive on the ground in terms of yards with 722 and 772. There are no signs of slowing down and the 5'10", 204-pounder has averaged 4.4 yards a pop throughout his career. Powell, who entering his eighth professional season is the longest tenured Jet, is a rock and I'm not going against that special combination of skill and will.
RL: Could be nip-and-tuck between Bilal and Isaiah. I'll take Bilal by a yard but both with 4.5/carry.
EG: It's a crowded room, but Isaiah Crowell will emerge as the lead horse. Crowell and Dolphins RB Frank Gore are the only two backs not to miss a game over the last four seasons (hopefully I didn't just jinx that). Crow has a nasty, downhill running style and I think the Green & White will run the ball more frequently than last year.