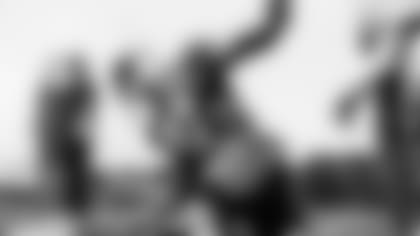 Over the next several days, NewYorkJets.com reporters Eric Allen, Randy Lange and Ethan Greenberg will each give their predictions to a series of questions regarding this year's Jets.
Today's question: Which rookie will make an immediate impact for the Jets?
EA: Nathan Shepherd, the team's third-round pick from Fort Hays State, is the safe answer. He will join the defensive line rotation immediately and the Jets like his heavy hands. Tight end Chris Herndon has a versatile skill set and the Green & White's fourth-rounder got better each season at Miami.  The pick here, though, is Sam Darnold. Great demeanor, doesn't make the same mistake twice, confident in the huddle and under center. The Jets haven't placed a timetable on him and it would be foolish for me to do so. But this is a play-making league and this 21-year-old can make plays. The Oxford Dictionary describes impact as a marked effect or influence and Darnold is already doing that.
RL: My heart says Sam but in case he doesn't start right away, I'll say Nate Shepherd.
EG: I want to say Nathan Shepherd, but I feel like that would be the safe route. I'm rolling with Chris Herndon. With the departure of Austin Seferian-Jenkins to Jacksonville, the tight end spot is wide open. Jordan Leggett is essentially a rookie as he spent almost the entirety of last season on injured reserve, Eric Tomlinson is primarily an in-line blocker and Neal Sterling flashed at times throughout the spring. Herndon was slotted to be a Day 2 selection, but fell to the fourth round because of a midseason knee injury. It's all about The U.