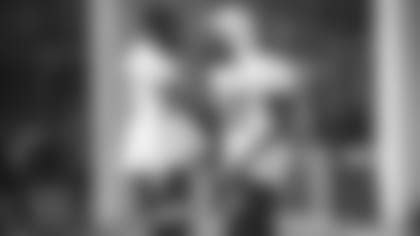 Throughout the offseason, NewYorkJets.com reporters Eric Allen, Ethan Greenberg and Randy Lange will each give their predictions to a series of questions regarding this year's Jets.
Today's question: Which RB will lead the Jets in yards from scrimmage in 2021?
EA: You could go in any direction here and make a strong case. The Jets are going to a committee approach and they like what each of their backs brings to the table. Head coach Robert Saleh has talked up the benefit of attacking in waves and sharing the load, so there will be multiple contributors. Fourth-round pick Michael Carter looked good in OTAs/minicamp and my sense is he'll look even better when the pads come on. Carter led the nation last season with 18 rushes of 20+yards and set a school record while averaging 6.62 yds/rush for his career. From 2018-20, he totaled 71 catches for 556 yards. He showcased his receiving prowess with a brilliant one-handed grab up the sideline this spring. The 5-8, 202-pounder consistently made people miss in the open field at Carolina because he can change directions at the drop of a dime and then get upfield. Due to his combination of vision, feel and lateral agility, The Athletic's Dane Brugler said the explosive Carter, "projects as a lesser version of Dalvin Cook." I'll take Carter while acknowledging Tevin Coleman has been a beast in this system before, La'Mical Perine looks ready for bigger things in Year 2, Ty Johnson is a burner with a nice skill set and this wide zone scheme fits Josh Adams well-
EG: This is a great question because it seems the Jets will go with a running back by committee approach. I think it's between Tevin Coleman and Michael Carter because of what they offer in addition to being a rusher. That's not a slight on the rest of the backs on the roster, but Coleman has proven to be successful in this system both as a rusher and receiver with OC Mike LaFleur in Atlanta and San Francisco, while Carter was a dual threat at North Carolina. I'll give the edge to Michael Carter because I think there's a chance he could return kicks for the Jets in addition to being a good fit in the outside-zone scheme. He returned kicks in both the 2019 and 2020 seasons for the Tar Heels and averaged 24.5 yards per return in '19 on 19 tries. I do think the rest of the Green & White's RBs fit the system well, even though they offer different flavors. La'Mical Perine, for example, is more of a bruiser than Ty Johnson, who is more of a burner. Regardless of who leads the team in yards from scrimmage, head coach Robert Saleh and LaFleur are excited about the group that's in place for the Green & White.
RL: I'm going to take a flyer on the recently arrived Tevin Coleman. Throw out last season, when he gained 87 yards for the 49ers while missing 8 games with a nagging knee injury. In fact, injuries have cost him quality time in 3 of his 6 pro seasons. But he seems to have come to the Jets with a fresh resolve to show the kind of player he can be for an offense in need. And when healthy, that's a back who has averaged more than 650 rushing yards and 280 receiving yards a season. If he comes in at 930 scrimmage yards in a probable backfield by committee this season, Coleman would join Bilal Powell in '17 and Le'Veon Bell in '19 as the only Jets backs to reach 900 scrimmage yards in the past four seasons. (And don't forget Coleman had 1,076 yards for Atlanta in '18.) Even that fairly modest total could be a springboard for Coleman, Ty Johnson, Josh Adams and La'Mical Perine to get the Jets' ground game back into the NFL conversation.