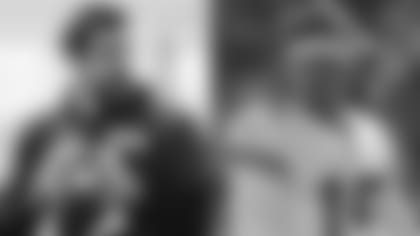 Throughout the offseason, NewYorkJets.com reporters Eric Allen, Ethan Greenberg, Randy Lange and Caroline Hendershot will each give their predictions to a series of questions regarding this year's Jets.
Today's question: Which Matchup Are You Most Looking Forward to on the Jets 2023 Schedule?
EA: I'm looking forward to the entire schedule. While the Green & White will be must-see TV all season, I can't wait for Jets-Cowboys in Week 2. Most of America will watch the Jets, a primetime darling, battle "America's Team" and you've got subplots galore. Aaron Rodgers will tango with his former HC Mike McCarthy for a second consecutive season. Rodgers was magnificent last November against the Cowboys, rallying the Packers from 14 points down in the fourth quarter, while throwing for 3 TDs and posting a 146.7 passer rating in an OT win. Wearing a different shade of green, Rodgers will fire to Garrett Wilson, who attended Lake Travis HS in Austin, TX, Allen Lazard, Mecole Hardman Jr. and more in Week 2. The 'Boys will counter with Micah Parsons, an absolute game-wrecker who amassed 26.5 sacks in 2021-22. On defense, the Jets' talented line will have Dak Prescott in its target zone, plus I love the CB-WR matchup as Sauce Gardner, D.J. Reed and Michael Carter Jr. lock horns with Ceedee Lamb, Brandin Cooks and Michael Gallup.
EG: While there are a lot of games that I could make the case for, Week 1 takes the cake for me. There's been so much hype around the Jets because of Aaron Rodgers and what a fun litmus test it'll be going up against the three-time defending AFC East champion Bills. It's a great quarterback matchup between Rodgers and Josh Allen, who are 1-1 against each other in their careers. The Jets took down the Bills at MetLife Stadium last season behind a strong rushing attack and an impressive defensive performance, holding the No. 2 scoring offense to 17 points. I get chills thinking of the roar of the crowd that night as fans will be waiting to erupt as No. 8 runs out of the tunnel wearing green and white. The Jets have an opportunity to make a big statement in Week 1. I love it.
RL: It would be easy to roll an even number and go right to Dak Prescott and the Cowboys in Week 2, or Patrick Mahomes and the Super Bowl-winning Chiefs in Week 4, or Jalen Hurts and those dastardly Eagles in Week 6, or Justin Herbert and the Chargers in Week 8. But I'll draw an odd number and go right to the top — Week 1, Monday night, Sept. 11, at MetLife: Aaron Rodgers and the Jets vs. Josh Allen and the Bills. I don't doubt for a minute that Rodgers will be the same magician he's been his entire career, if not better and more inspired by his new New York state of mind, but I want to see the frustrations of last season's six-game losing streak and no touchdowns over the final three games washed away. I want to see Rodgers go toe-to-toe with Allen and pry victory No. 1 out of his and the Bills' grasp. Mostly, I want the Bills, who have won three straight division titles, as well as the Patriots and Dolphins to see right from the beginning that they'll all have a title fight on their hands this season. No time like opening night to start sending that message.
CH: There are going to be a lot of primetime games for the Jets this season, but Eagles coming to Metlife for Week 6 at 4:25 p.m. is what is circled on my calendar. While they are not the reigning Super Bowl champs, they had a stellar offseason. On offense, the Eagles extended the contract of QB Jalen Hurts; signed WR A.J. Brown and RT Lane Johnson; and re-signed TE Tyree Jackson. On defense, the Eagles added to their already stocked unit. They re-signed DE Brandon Graham, signed S Terrell Edmunds, and drafted DT Jalen Carter. Going head to head with this roster in Week 6 will be a measure of where the Jets stack up and how well they are gelling.