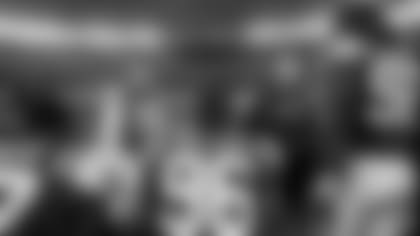 EA: How about the defensive line? We forget how much change has taken place up front. Leonard Williams had an excellent camp and I love his attitude of embracing new challenges. During those Jets-Redskins joint practices, Leo told me how much he enjoyed his individual matchups with Brandon Scherff, the guard who was taken one spot ahead of him in the 2015 Draft. But Williams also jumped at the chance to come off the edge and work his craft against one of the finest tackles in football — Trent Williams. The Big Cat is healthy after dealing with hand issues for the majority of the first half of the 2017 schedule. With Williams poised to take significant strides, let's see who steps up around him. Veteran run stuffer Steve McLendon has been out for weeks, so that should mean another opportunity for Mike Pennel in the middle of that defense. Rookie Nathan Shepherd has been strong as advertised and I've been particularly impressed by his ability to get his hands up in throwing lanes. The Jets like Henry Anderson's versatility and the former Colt will be a valuable part of this rotation even if he isn't in the starting lineup. Sixth-rounder Folorunso Fatukasi has received some reps with the first team as well and he probably will get some action in the first half. For the Jets to become one of the better defenses in football, they have to be stingy against the run. Through two preseason games, they've yielded just 73 yards a game on the ground. It's too bad the D won't see Saquon Barkley tonight, but I want to see this new-look line win their matchups up front.
RL: Used to be that NFL offensive lines got, oh, about three years to jell. This year's Jets' OL starters are going to get, oh, about three quarters to come together against the Giants before they presumably will rest in the summer finale at Philly and then hit the ground running on opening night at Detroit. LT Kelvin Beachum sat out the first two preseason games and RG Brian Winters missed the Washington game. Both are expected back to rejoin LG James Carpenter, C Spencer Long and RT Brandon Shell vs. Big Blue. This OL jelling thing is important for whichever quarterback is named starter, and particularly if rookie Sam Darnold gets the nod, since the rookie would need a strong running game and top-notch protection to find his receivers and direct his first NFL offense. Of course we're not being totally fair about the three years thing, since four-fifths of last year's OL — Beach, Carp, Winters and Shell — started 10 of last year's 16 games together. But the point is that it's still true that a good offense starts up front and this year's quintet has a short time to sync things up for the 2018 season ahead.
EG: The wide receiving corps. Right now there are 11 wideouts on the team, so there was a lot of mixing and matching throughout training camp. The Jets have four receivers who have recorded at least 800 yards in one season — Robby Anderson, Jermaine Kearse, Quincy Enunwa and Terrelle Pryor — but Enunwa and Pryor have yet to make their preseason debuts as they're recovering from injury. Enunwa hasn't played since Jan. 1, 2017 and Pryor hasn't played since Week 9 last year. Head coach Todd Bowles said they're both game-time decisions for Friday's MetLife Bowl. Anderson burst on the national radar with a career year in 2017, but how will he respond if he gets more attention from the defense? I think the unit is often overlooked and has a lot of potential, but I want to see how they mesh together let alone whoever lines up under center. Friday could mark the first time all four receivers line up on the same field. If healthy, this unit could check multiple boxes of different receivers who provide different mismatches for defenses.