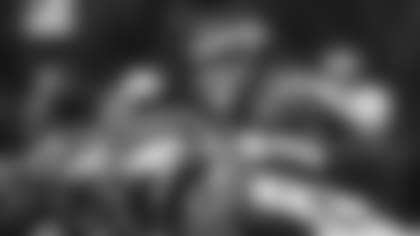 Sam Darnold was quick on the draw when asked if there's a statistic he'd like to improve in his third NFL season.
"Completion percentage," he said. "I'm always looking to improve completion percentage. I don't get super into the statistics of what's going on. The biggest stat is the win column, but I do feel like if I get my completion percentage up, we'll see more wins on the table."
Darnold completed 61.9% of his passes last season compared to 57.7% as a rookie in 2018.
The Bills, who host the Jets on Sunday, have one of the league's best defenses -- they finished No. 3 in total defense and No. 4 against the pass, allowing 195.2 yards per game in 2019.
Darnold, however, has completed 66.3% of his passes in three games against Buffalo, two of them in Orchard Park, NY. The Buffalo defense has several returning players and features two Pro Bowlers – CB Tre'Davious White, who tied for the NFL high with 6 interceptions in 2019; and LB Tremaine Edmunds. Even though Darnold and the Jets are familiar with defensive coordinator Leslie Frazier's scheme, they don't have new tape to study because there were no preseason games.
"It is what it is," Darnold said. "For us it's looking at the games they recently played and then looking at the games we played against them. There's some tape there. [Bills Head Coach] Sean McDermott and those guys, Coach Frazier over there, they're going to have their guys ready to play. We just have to be ready, which we will be. We're looking forward to the challenge."
Darnold had a revolving door at wide receiver throughout training camp because of injuries, but he's shown flashes of chemistry with the five active wideouts on the roster – Breshad Perriman, Denzel Mims, Chris Hogan, Jamison Crowder and Braxton Berrios – minus Denzel Mims, who was sidelined for the majority of camp with a hamstring injury.
"As a quarterback, you want stability, but guys can be able to come in and out and you're expecting on a certain play for one person to be in the right spot and at the right time," he said. "As long as guys are doing that, I'm going to be able to expect that guy to be there no matter who it is. Everyone in the NFL is talented, so if you get the ball to someone and they're able to make someone miss and go get YAC, there's yards to be made all over the field. Everyone is talented enough to do it. That's how I look at it as a quarterback."
The Jets also have WRs Donte Moncrief and Lawrence Cager on their practice squad. With the new COVID-19 rules, the team can elevate two players from its practice squad to the game day roster and place them back on the P-squad immediately after the game. Regardless of who lines up Week 1 at Buffalo, Darnold has confidence with his receiving corps and the offense as a whole.
"We have a lot of guys who are hungry to get a W," Darnold said. "That's all that really matters. When you have guys like that, guys that are willing to work every single day, prepare and practice really hard, we're always going to go in with the mindset of executing every single play. Hopefully that'll take care of the result for us."