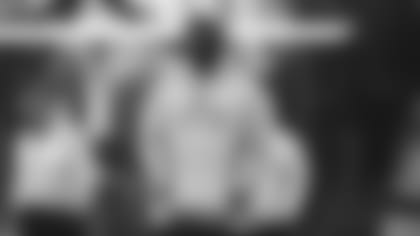 With half of the regular season now complete, Jets head coach Todd Bowles says his club has to collectively roll up the sleeves, pick up the shovel and start to dig.
"We have to put our heads down and we have to correct this," Bowles told reporters during a conference call Monday afternoon. "We have to try to come out and win some ballgames. The season is not over, but we're halfway through it at 3-5. You don't like where you are, but we dug ourselves this hole and we have to dig ourselves out."
The fourth-year head coach said the team is in a good place mentally and believes that mistakes on both sides of the ball are correctable. After Sunday's 24-10 loss to the Bears, Bowles was proud of the way the group stuck together and he reiterated that the players are fighting until the final whistle.
"Any time you don't win ballgames, you don't see that on record," he said. "But I feel like we're closer from a chemistry standpoint and camaraderie standpoint. We just got to make some plays."
After reaching .500 following a Week 6 victory over the Colts, the Jets are amidst a two-game skid in which the offense has averaged 235 yards and 13.5 points per game. Bowles remains confident in rookie quarterback Sam Darnold, who has completed 44% of his passes and thrown for 359 yards with two touchdowns and no interceptions during the Jets' losing streak. Darnold is known for his mental makeup and resolve, and he's been without WR Quincy Enunwa (ankle) for two weeks as well as WR Robby Anderson (ankle) and running back Bilal Powell (neck/IR) for one game.
"You have to make sure that the team is OK. I think Sam will be fine," Bowles said. "We understand what happened, we reviewed the tape. He's very bright that way and observant. He sees things and knows what to correct. He has input on his own and understands why things happen, so I think he'll be fine."
Through eight games, Darnold has completed 55.2% of his passes and thrown for 1,705 yards with 11 touchdowns and 10 interceptions. Like a seasoned vet, the 21-year-old rookie's primary focus is the upcoming opponent.
"Taking it one week at a time like I've been doing," said the 2018 No. 3 overall pick of his mindset. "Just continuing to get better every single week and learning from my mistakes, but at the same time finding positives in stuff that I do well."
Top Images from Sunday's Week 8 Matchup in Chicago