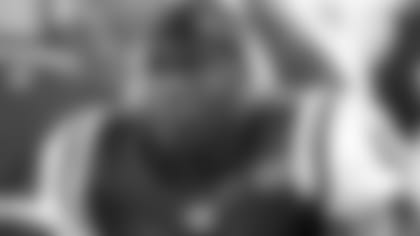 There were 222 college players chosen the 1994 NFL Draft. Fullback Tony Richardson, who would go on to spend a remarkable 17 seasons in the NFL, three as a Jet, was not one of them.
"It was very disappointing," Richardson said. "I had a great senior year at Auburn. We were undefeated, 11-0, but couldn't play in the championship game because we were on probation. The Draft came around and they don't call my name. I'm sitting there, 'Oh, man. Now what?'"
Richardson chose to sign as a free agent with Dallas. The Cowboys, however, were the back-to-back Super Bowl champions, and so making the team proved to be easier said than done.
"It was kind of tough because at that time. (Daryl) Moose Johnston was the starting fullback and Tommie Agee was Emmitt (Smith's) best friend, and he was the back-up fullback. So, I had to not only beat out Tommie Agee, but beat out Emmitt Smith's best friend," Richardson said.
"That didn't happen, and they put me on the practice squad. But that was the best year that I had, having leadership in the locker room really showing me how to be a professional on and off the field."
After the one year in Dallas, Richardson would play 11 seasons with the Kansas City Chiefs and two with the Minnesota Vikings, earning three trips to the Pro Bowl. His ability and reputation are what led the Jets to reach out when he became a free agent in 2008.
"I got a call from my running backs coach when I was in Kansas City, Jimmy Raye, now the running backs coach in New York. He said, 'Hey, you still got a little gas in the tank?' I said, 'Yeah, Jimmy, I think I can still make a run at it.' And he said, 'We're looking for a fullback and also for a strong veteran presence in the locker room,'" Richardson said.
"That's probably the best compliment that anyone could ever give because I came into the league with the Cowboys and I look around the locker room and I've got Emmitt Smith and Michael Irvin, Troy Aikman, Daryl Johnston. I've got leaders around me that kind of took me under their wings.
"And then I go to Kansas City and I have Derrick Thomas and Neil Smith, Marcus Allen, Dave Szott. So, I've had guys that grabbed me and said this is the way to do it, just following their lead and one day becoming the elder statesman in the locker room."
With the Jets for three seasons, 2008-10, Richardson's most memorable time with the team occurred during the 2010 playoffs.
"Earlier that year we got embarrassed by the Patriots (45-18) and then had the opportunity to make the playoffs and play the Patriots on the road, which history will show you a lot of people don't fare too well when you play against the Patriots on the road, against Tom Brady," Richardson said of the 28-21 upset. "It was just one of those things. We loaded up. It was just magical. Every last person from the strength trainers to the equipment managers to the guys in the cafeteria, that was just one week where everyone was just locked in.
"We went on to Pittsburgh and unfortunately lost (in the AFC Championship Game, 24-19), but nobody in the world gave us a chance. We went out (against New England) and played maybe one of the best football games I think I've ever been a part of."
A part of four organizations, how was Richardson able to spend 17 seasons in the league?
"I think a lot of that has to do with my upbringing. My dad was a military man, 32 years," said Richardson, the 2010 recipient of the NFLPA's Byron "Whizzer" White NFL Man of the Year Award. "It's funny. As I look back on it, I always kind of pinch myself. Why me? What did I have different?
"So, I look at that and it must have been something that my dad instilled. One thing that he always talked to us about was, 'If you're going to do anything, give it 100 percent. And then if it just doesn't work out in your favor, as long as you can look at yourself in a mirror and say you gave it everything you had, then that's the most important thing.'"
Richardson, in a sense, is now paying it back is the North East Coordinator for NFL legends.
"One of the things that we want to do is re-engage and connect our former players back with their teams. Unfortunately, the NFL is one sport where you don't really get a chance to try to leave on your own terms. So, a lot of guys are not very happy with the end of their career and they want nothing to do with the NFL," Richardson said.
"One thing that we want to do with the Legends Community is talk with our guys and make sure they're doing well. And number two, let's celebrate what they've been able to accomplish. If you played one year, if you played two years, 27,000 people in the history of the world played professional football and if you're one of them you've done something pretty special."
The NFL Legends Community also connects with young men who hope to enter the League. Richardson and other former players met with them at the Senior Bowl, where he was an honorary captain, and more recently at the Combine in Indianapolis.
"We just want to be a resource, be there, be that sounding board," Richardson said. "One thing we realize is you're going to be a former player a lot longer than you're going to be a current player. So, once we build that relationship on the front end, it makes our relationship on the back end that much easier. We let them know upfront that we don't work for the NFL per say as far as evaluating guys. We just want to be there to support them and help them out throughout the entire process.
"During the season, I do a lot of stuff for the Jets and the Giants. Pretty much at every Jets home game, I do different events. And a lot of corporate speaking and things of that nature. Right now that's my primary responsibility, but I'm involved in a lot of different boards and charities and things of that nature."