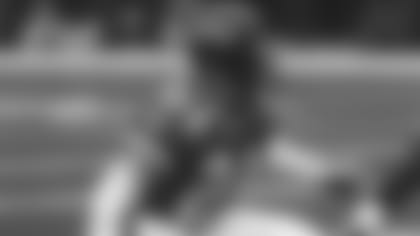 Ray Mickens, an All-America cornerback at Texas A&M, had mixed emotions before the Jets chose him in the 1996 NFL Draft.
"I was projected to go in the first round and then I slid past the second and was the first pick of the third," Mickens said. "So, I was a little upset. But I got that call from (head coach) Rich Kotite and (director of player personnel) Dick Haley and (first-round pick) Keyshawn Johnson was there, and they welcomed me to the family. I was happy and excited to know where my next home was and to get started."
Starting 10 games at cornerback as a rookie, Mickens would then make his mark as a nickel back and prove his dependability to play anywhere in the secondary while collecting nine of his 11 career interceptions over the next three seasons.
"I wanted to make sure that I was versatile, that I could play inside and outside," Mickens said. "I think that was one of the things that I realized about most of the guys in my position, they only wanted to play corner. They didn't like going into the slot. And some guys that played in the slot didn't like going outside as much. I have pride in embracing both and being good at both."
With the Jets from 1996-03, Mickens missed only two games before a knee injury sidelined him for the 2004 campaign. His fondest memories of playing for New York occurred in 1998, when the Jets posted a 12-4 record and made the playoffs for the first time in seven years.
"For the most part of that year, I was playing just nickel," Mickens said. "And then Week 11, Aaron Glenn went down against the Seattle Seahawks and I got thrust into a starting role for the rest of the season and into the playoffs.
"That was most memorable because (head coach Bill) Parcells challenged me every week. He came to me and said, 'You cried all year about starting and now you've got an opportunity. What are you going to do?' He challenged me and that's all I needed, that extra motivation to study harder, to practice harder and to play well.
"I think my longevity and my durability (is what makes me most proud of my 10-year NFL career – eight with the Jets and one year each with the Cleveland Browns and New England Patriots). I think that those are things that obviously you can't control, but everything that I could control, I did. And I think that I played to the best of my ability and I gave my all to my job. I was always thinking about it regardless even if I wasn't at work."
When he wasn't at work for the Jets, besides thinking about football he was also thinking about his life after the game. In 1999, an uncle called to talk about a possible investment opportunity at the Philadelphia airport.
"I drove down there on my off-day and checked it out and ended up making a small investment," Mickens said. "It was a kiosk. I sold popcorn and soft pretzels with Pepsi products. It was just a small little wooden stand with the popcorn machine. It didn't make a lot of money, but it was a learning experience for the business and it helped me develop relationships in the industry.
"And that was the most important thing. I learned about the landlords and other people that were doing business in the airport and it kind of just snowballed from there."
One man's snowball is another man's avalanche. Now based in the Dallas/Fort Worth International Airport, Mickens' "small investment" in that kiosk in Philadelphia has grown into a successful food and beverage career.
"I've got multi-units. I'm a Chick-fil-A licensee; I have three Chick-fil-A restaurants that I operate. I have three bars that I own and operate. I have a Qdoba Mexican Grille franchise. I have Caribou Coffee and Einstein Bagel franchises. And I co-operate a Starbucks coffee at DFW airport," said Mickens, who also has business interests in other airports. "It's a controlled environment, they call it non-traditional locations. Yeah, it's pretty good. It's a niche."
Mickens has also kept his hand in football with Nike's Grassroots Football Camps.
"It's a circuit of camps called the Nike Opening," Mickens said. "There are 13 regional camps and one huge end of the summer camp. I evaluate the defensive backs at each camp. They'll give me a list of about 60 of the top defensive backs in that region and we put them through drills and skill sessions."
Mickens doesn't have to look far to see one of the country's top high school players. His son, RJ, is a junior at Southlake Carroll High School. "He has about 28 Division I offers." Mickens said. "He's the No.1 safety in the country, he plays corner too, though. So, he's basically going to college as a defensive back."
Mickens and his wife, Nicole, also have a daughter, Kami, who played Division I basketball at Boston College and Southern Methodist University in Dallas.