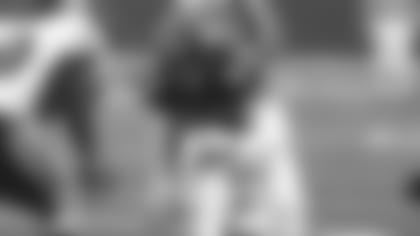 Chad Cascadden has always been up for a challenge. In high school, he tore an ACL in the opening game of his senior year, yet was able to be a walk-on linebacker at the University of Wisconsin the following fall.
He faced the next challenge when the NFL held its Draft in 1995.
"It started getting down to the seventh round, a couple of teams called and said they were interested, that if I were not drafted, they would like to sign me," Cascadden said. "From all of my research and speaking with coaches, how do you make a team as a late draft choice or a free agent? The answer was playing time. If you don't get playing time, you don't get on the field, you don't get looked at, you don't make the team. I wanted to go to a place that gave me the best opportunity for playing time and I felt the Jets were that."
With New York under new head coach Rich Kotite, who had been with the Philadelphia Eagles the previous four seasons, Cascadden and the other rookies would try to make the team without much advice from the veteran players.
"It was a little like being thrown into the ocean and expected to swim and do everything I could to keep my head above water, which, fortunately, I was able to," Cascadden said. "You've got to understand these guys are also fighting for their jobs. Being a free agent rookie, most guys aren't probably going to spend a terrible amount of time trying to help you out because they probably didn't think I was going to make the team."        
They would have been mistaken. Eventually.
"I had driven over on the day of (final) cuts and was walking in the parking lot and (V.P. of Football Operations) Mike Kensil caught me and said, 'We're going to release you, but we're going to put you on the practice squad' because I had sustained a quad injury in the last preseason game," Cascadden said. "He said, 'You're going to give me your playbook, but just go back to the hotel and hang out for a day and we'll make sure you clear waivers.'"
Placed on the active roster prior to the Jets' game against the Oakland Raiders on October 1, Cascadden's stint on the practice squad lasted four weeks.
"While some guys may see making the regular roster, putting on a uniform and running out onto the field as, 'Oh, I made it.' I didn't feel like that. I saw it as. 'OK, I'm here now, let's go do something, let's go win.' It fell in pretty quick. I felt like I belonged, that I deserved to be there."
The Jets struggled in 1995 with a 3-13 record and the following season when they went 1-15. The losses led to Kotite being replaced by Bill Parcells.
"I think despite the fact that we didn't have a winning record, we were a pretty talented team. But I do think there was some lack of leadership on that team that perhaps Kotite was depending on from the veterans, much like he did when he was at Philly," Cascadden said.
"Parcells came in with a little bit more of a disciplinary and a more structured way of running the organization. Which I was accustomed to playing under Barry Alvarez at Wisconsin. Certainly, the level of expectation was raised.
"I thought he did a nice job of bringing in talent and motivating that talent to perform at its highest level. And ultimately, we were able to sort of develop as a team. We were tough and we were talented."
In 1998, the tough and talented Jets posted a 12-4 record and made it to the AFC Championship Game. Cascadden literally scored a first that season during a 21-16 victory over Miami, when he sacked Dolphins quarterback Dan Marino late in the fourth quarter, was credited with a forced fumble, recovered it, and raced 23 yards for a touchdown.
"I came around on a pass rush and it looked on film that I was able to dislodge the ball, but it was actually (defensive tackle) Ernie Logan that did it," Cascadden said. "I knew that the ball had come out, but I couldn't believe it was just sitting there for what felt like 10 seconds. I went over and picked it up and started running. And then when I finally got to the end zone and turned back to celebrate with the guys, Mo Lewis and James Farrior were basically already tackling me to the ground. That was a pretty cool experience for me having never scored a touchdown before."  
Playing with the Jets for four seasons, 1995-99, Cascadden and his wife, Melissa, make their home on Long Island in the village of Garden City with their sons: Jack, Luke, Blake and Reid. He is the managing director of ParkWest Advisors in New York, a small financial firm that deals with lower- and middle-market companies.
"We provide transactional advisory and board capital raising and principal investing. We don't deal with the public market, mostly private market, mostly companies that are looking to grow and need a little capital or need someone to invest in them. We provide that platform," Cascadden said. "I've been doing this for about a year and a half. Before that I was in the corporate insurance world. I just felt this was more suited to my skillset and I enjoy it more."
Cascadden is also a business development executive for Athlete Career Transition Ltd. "It was started by two Welsh rugby champions," he said. "They wanted to build a business that helped professional and Olympic athletes transition out of their careers of sport into the corporate world because they realized when they left the sporting world, it's an uphill battle. There are so many different things that don't exist in the corporate world that you're so used to as athletes. We started January 1 here in the United States, and thus far we've already signed up two large corporations, working on a third, and so it's been extremely, positively accepted."
And for the past four seasons, Cascadden has been a Jets analyst for SportsNet New York.
"It's good fun, it's good entertainment, there's a lot of specific data about the Jets and what it's like that I think a lot of people who watch the show like to hear about. Specific examples of what we went through," he said. "Maybe some things that when you're watching the game you don't see that we do, and we'll point that out. So, there's some unique and fun aspects to that show that people really grab on to."